Financier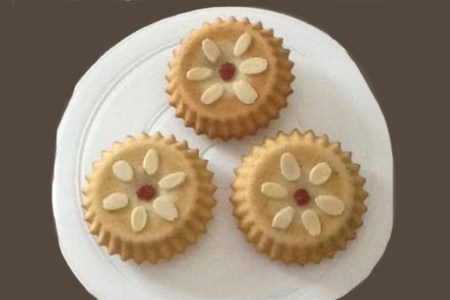 Ingredients
Unsalted Butter (at room temperature): 113 grams
Icing Sugar: 90 grams (3/4 cups)
All Purpose Flour: 30 grams (1/4 cup)
Almond Powder: 55 grams or 1/2 cup
Almond Essence: 1/2 tsp
Egg Whites: 3
Preparation
Pre-heat your oven to 200 degrees Celsius. Butter your tart moulds with caramelised butter (read below).

In a saucepan, melt the unsalted butter until it caramelises by turning brown. It will initially be very foamy. Continue to cook until it the foam clears and the spluttering sounds become less. Swirl the saucepan occasionally. Allow the caramelised butter to cool at room temperature. 1/3 cup of the caramelised butter will be used in the batter. Whereas the remaining will be used to grease the tart moulds.

In a dry bowl, sift and mix all the ingredients i.e all purpose flour, Almond Powder and Icing sugar.

In another bowl, mix together all the wet ingredients i.e Egg Whites, Almond Essence and 1/3 cup of cooled caramelised butter.

Add the wet ingredients to the dry ingredients bowl. Fold with the help of a spatula until all the ingredients are well-combined.

Pour equal amounts of batter into your tart moulds making sure they reach the rim.

Bake the Financiers in your pre-heated oven at 200 degrees Celsius until the edges turn brown and a skewer inserted in the centre of the cake comes out clean.

All the Financiers to cool completely on a wire rack before removing from the tart mould.

Congratulations! You're Financiers are ready to be served!