Posted on
24 January 2016
On-The-Go Breakfast Bliss Balls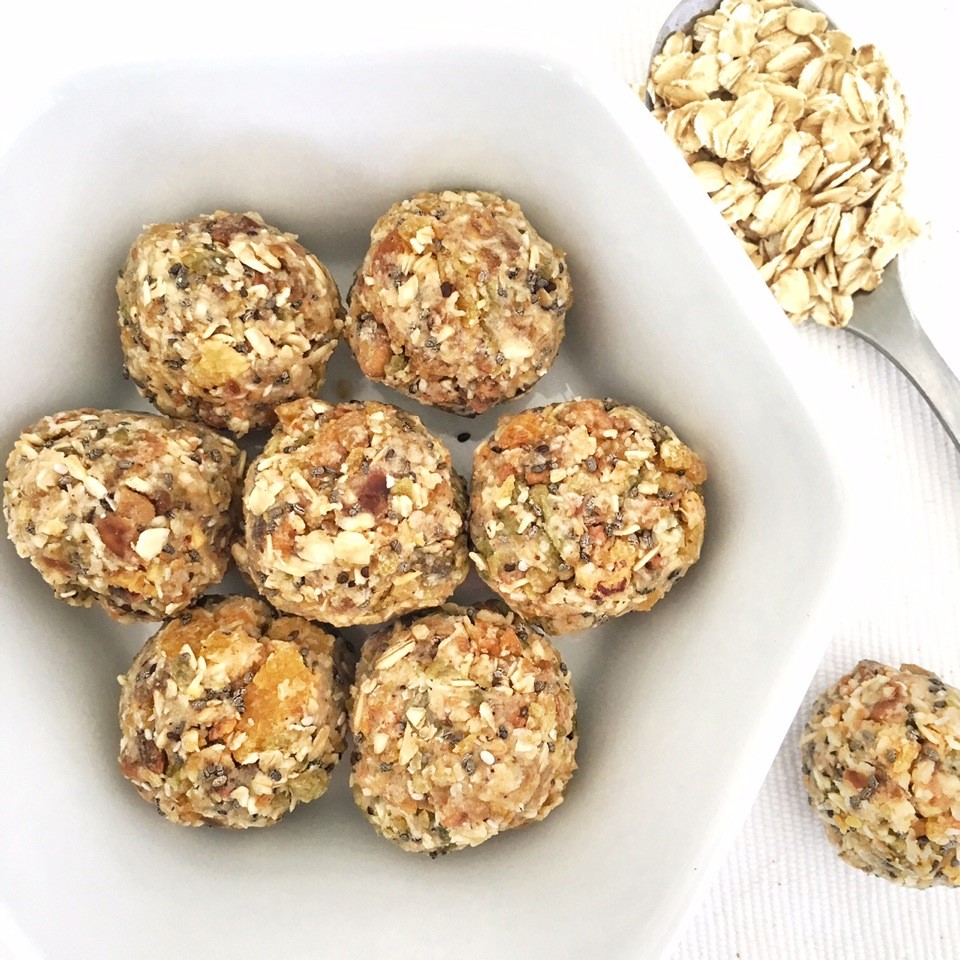 Ingredients
1 cup of mixed dried fruit – recommended combination: apricots, mangos, kiwi and dates.
¾ cup of old fashioned rolled oats.
¼ cup of desiccated coconut
1 tablespoon of vegan vanilla protein powder
1 tablespoon of chia seeds
1 tablespoon of honey
1 ½ tablespoon of coconut oil
Preparation
Equipment: Food processor.

Prepare the fruit: In the food processor pulse the dried fruit until broken down into small pieces.

Line a plate with silver foil.

Add the rolled oats, desiccated coconut, chia seeds and protein powder along with the dried fruit and pulse in the food processor until well combined.

Add the honey and coconut oil and blend together for 2-3 minutes, until a soft dough is formed.

Remove the blade from the food processor.

Using a tablespoon, spoon out the dough and then roll in-between the palm of your hands into balls, similar in size to golf balls.

Place the bliss ball onto the lined plate.

Repeat this process (bullet points 5 & 6) until all the mixture has been used up.

Approximately 8-10 bliss balls.

Place bliss balls to set in the fridge for 30 minutes.

Store in an airtight container for up to 3 days.
Cooks Note
Experiment with a range of fruits to suit your taste buds and use gluten-free oats if you have food sensitive's.
Prepare these wholesome bliss balls in advance of a busy week and use as them as an 'on-the-go' breakfast your whole family can enjoy or a energy boosting pre-workout or school activity.