Posted on
28 November 2012
Green Baked Quinoa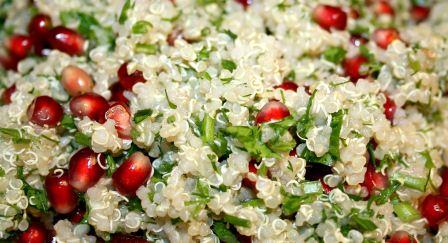 Ingredients
3oz. sesame seeds
½ oz. olive oil
1 onion, diced
2 cloves garlic, minced
¼ tsp. chili powder
3 Tsp. dried thyme
1 pack baby spinach
2 cups quinoa, cooked
8oz. Greek plain yogurt
2 eggs, lightly beaten
Generous amount of salt
Freshly ground pepper
Preparation
Preheat the oven to 180°C. Coat a baking dish with butter and top with a coat of sesame seeds, set aside. Sauté the garlic, onion, thyme and chili powder until the onion is translucent. At the same time blanche the spinach and transfer to an ice bath.

Add the sautéed vegetables and the spinach to a mixing bowl. Combine it with the quinoa, yoghurt, eggs, salt and pepper. Once the mixture is well combined transfer it to the baking dish and bake for approximately an hour, until the mixture is golden brown and has set.

Remove it from the oven and slice, serve warm or at room temperature.