Herb Crusted Salmon with Green Beans in Lemon Butt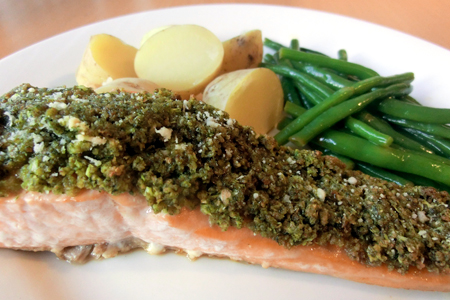 Ingredients
4 salmon fillets
1 thick slice of wholemeal bread
1 large lemon
40g Grana Padano or parmesan cheese
Fresh parsley
Fresh basil
Salt and freshly ground black pepper
Olive oil
Baby Jersey Royal potatoes
Fine green beans
30g butter
Preparation
1. Preheat the oven to 200 degrees, 180 degrees fan oven.

2. Break the wholemeal bread into pieces, you will need about 50g, and whizz in a food processor to turn into breadcrumbs. Next use a zester to remove the zest of the lemon and add to the breadcrumbs. Wash and roughly chop 20g each of the fresh parsley and basil and add to the breadcrumbs. Grate the cheese finely then add that too. [I used Grana Padano because I like the milder flavour, but Parmesan is more usual in this dish, either will work well.] Season, then mix the ingredients together with a quick burst of the food processor.

3. Wash the salmon fillets and pat dry with kitchen towel. Brush the base of an oven tray with a little olive oil, then place the salmon fillets on it, skin side down. Season the top of each fish, then drizzle on just a little of the lemon juice to moisten each piece of salmon. Divide the herb crust mixture between the 4 fish, pressing it on gently with your fingers a little at a time to form an even crust on the top. Drizzle on a few drops of olive oil and bake in the oven for 15 minutes or until the salmon has become opaque and is cooked through.

4. Meanwhile, wash the potatoes and cut into even sized chunks if necessary. Cook in boiling salted water for about 15 minutes, or until tender.

5. Just before the salmon and potatoes are ready, wash, top and tail the green beans and place in a steamer to cook for about 4 minutes. Cut the butter into small pieces, melt in a saucepan over a low heat, and then add the remainder of the juice from the lemon. Add the cooked green beans and toss in the butter and lemon for a few moments. Serve them with the hot herb crusted salmon fillets and potatoes, drizzling any remaining lemon butter over the beans.
Cooks Note
Other serving ideas:
For a spicier crust, sprinkle with paprika before cooking, or add chopped red chilli and garlic to the mix.
Try it served with crunchy potato wedges or chunky chips. Or, if you prefer, place the salmon on a bed of healthy brown rice for extra fibre, along with stir fried vegetables.
You could replace the green beans with other green vegetables, such as asparagus, baby broad beans, wilted spinach or fresh minted peas, or with a selection of your family's favourite steamed vegetables. Alternatively, serve with a cool crisp salad, lovely on a hot day.