Leek & Potato Rosti Brunch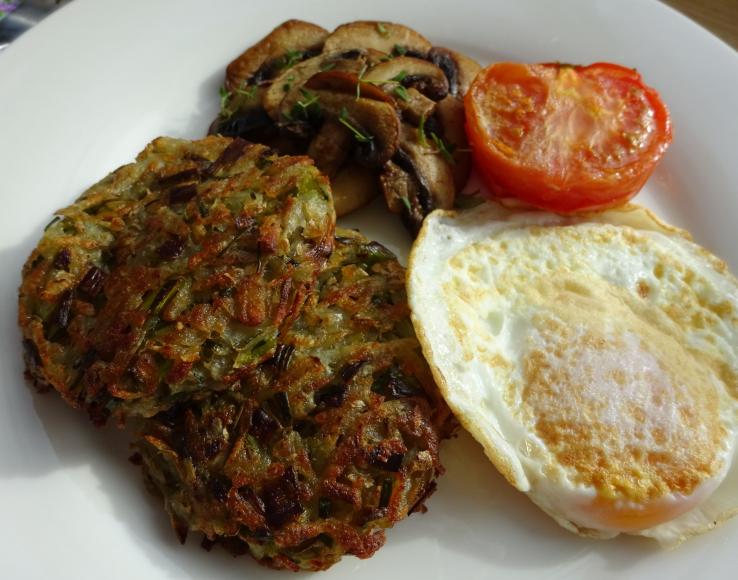 Ingredients
1 small leek
2 medium potatoes
30g butter
2 teaspoons of plain flour
A small bunch of chives
Salt and black pepper
Olive oil
2 large tomatoes
4-5 large chestnut mushrooms
2 free range eggs
A few sprigs of fresh thyme
Preparation
Preheat the oven to 190 degrees, 170 degrees fan oven. Lightly oil an oven tray.

Wash, trim and finely chop the leek. Melt 10g of butter in a small frying pan and gently sauté the leek for 3 minutes then put into a small bowl and set aside. [You can just wipe the pan with kitchen towel and use it again.]

Scrub the potatoes clean and grate them, without peeling, into a clean tea towel. Squeeze out as much liquid as you can. Tip the potato into a bowl then add the leeks. Add the flour, snip in the chives, season with salt and black pepper and mix well together.

Put the prepared tray into the oven to warm then melt 10g of butter with a tablespoon of olive oil in a frying pan. Form the potato mixture into 4 patties

I used 8cm metal food rings to make neat shapes, or you can just use your hands. Fry the patties in the hot pan for 2-3 minutes on each side to brown them and then lift them onto the tray and bake for about 20 minutes to cook through.

After 5 minutes, slice the tomatoes in half, drizzle with a little olive oil, season and place on the tray with the rosti.

Thickly slice the mushrooms. Heat the remaining 10g of butter in a small frying pan and gently sauté the mushrooms until golden, for about 5 minutes, turning once.

Lastly, fry the eggs in a little oil. Divide the rosti, tomatoes, mushrooms and eggs between the two plates, sprinkling a little finely chopped fresh thyme over the mushrooms.
Cooks Note
On Mother's day this year, give Mum a really relaxing morning by serving her this simple but tasty breakfast or brunch; delicious leek and potato rosti served with mushrooms and thyme, oven roasted tomatoes and a fried egg.
Serves 2.