Posted on
21 October 2012
Mango and Strawberry Mousse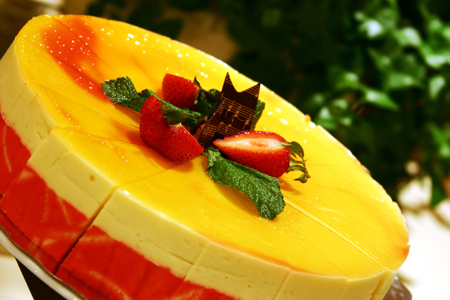 Ingredients
1 cup mango - chopped in pieces
1 cup strawberries - halved
2 tsp gelatin granules
3 1/2 cup white sugar
1 1/4 cup heavy cream
3 egg whites - whisked
Save some of the cut fruit for garnishing
Whipped cream for th topping
Preparation
Keeping some strawberries and mango aside, take the rest and purée the in a blender with 1/4 cup sugar.

Mix well and then add 4 tbsp double cream to the purée.

Allow the purée to come to boil over a low heat.

After that remove the purée from the heat and leave it to cool.

Add 2 tsp of the gelatin granules to warm water in a bowl, and stir until dissolved.

Mix in the gelatine mixture in the purée while it is still warm.

Wait till it completely blends into the mixture.

Stir well and leave purée/gelatin mixture to cool.

Beat and whisk the rest of the heavy cream until soft peaks form.

Incorporate and fold the purée into the whipped cream bit by bit.

Then whisk in the egg whites till peaks start to form.

Thereafter, slowly add the rest of the sugar while whisking, until stiff peaks form.

Now, slowly and gently weave the beaten egg whites into the mixture.

To finish, scoop the mousse into individual serving dessert bowls.

Allow this to rest in the refrigerator for 4 hours.

Once set, garnish each bowl with the reserved fruit and a dollop of whipped cream!

Enjoy!
Cooks Note
NEVER boil any gelatin mixture.