Posted on
17 December 2014
Mini savoury Christmas Puds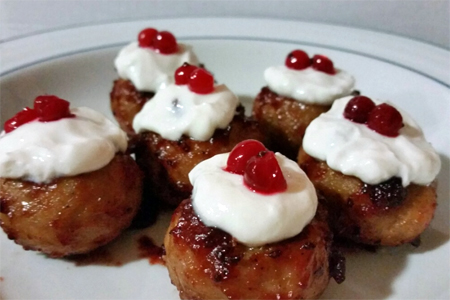 Ingredients
1tsp dill, finely chopped
4 1/2 tbsp thick Greek yoghurt
1 tbsp oil
300g small meatballs, at least 16
40g cranberry sauce
32 dried cranberry
Preparation
Finely chop half the dill and mix with the Greek yoghourt. Set aside.

Heat the oil in a large frying pan and fry the meatballs for 5 minutes until browned all over, swirling the pan often over a medium-high heat. Pour off the fat and discard.

Reduce heat, add the cranberry sauce to the pan and cook for 1 minute until meatballs are glazed and sticky. transfer to a plate to cool, or chill if making ahead.

Brush with a little more cranberry sauce. Top each meatball with about 1/2 tsp of the yoghurt mixture, a little dill frond and two dried cranberries.

Make dill and yoghourt mixture, then prepare meatballs to the end of step 3 up to a day ahead. Store in separate, covered containers in the fridge. Finish recipe up to 3hr ahead. Chill again, then remove from fridge 30 minutes before serving.
Cooks Note
Buy pre-cooked Swedish meatballs to save time, or use mini falafels in place of the meatballs.
Prep time: 15 min.
Cooking time: 5 min.
Makes: 16
Inspired by Good Housekeeping Recipes