Moroccan Lamb Shanks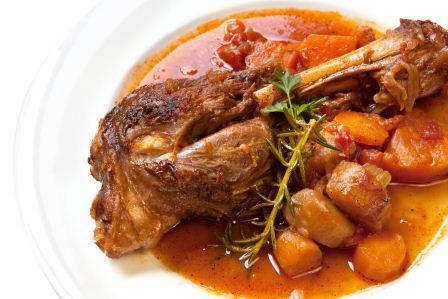 Ingredients
• Olive oil
• 4 French-trimmed lamb shanks
• 2 red onions, thinly sliced
2 garlic cloves, crushed
1tsp. paprika
1tsp. cumin
½ tsp. coriander
1/8 tsp. cinnamon
1/8 tsp. nutmeg
1/8 tsp. ground cardamom
1/8 tsp. ground cloves
1 can crushed tomatoes
8fl oz. beef stock
1 can chickpeas, drained, rinsed
3oz. baby spinach
Preparation
Preheat oven to 170°C.

Heat the oil in a fryingpan and brown the lamb shanks on all sides.

Transfer the shanks to a casserole dish.

Reduce the heat on the stovetop and add the onion, garlic and spice mixture to the pan, sauté for a few minutes until soft.

Add the tomatoes and beef stock and bring to a boil.

Pour the sauce over the lamb and cover the dish with foil.

Cook in the oven for an hour and a half.

Stir in the chickpeas and cover and cook for a further thirty minutes.

Remove the lamb from the oven and stir in the baby spinach.

Season to taste and serve with potatoes, polenta or cous cous.