Posted on
18 September 2016
Mushroom Noodle Soup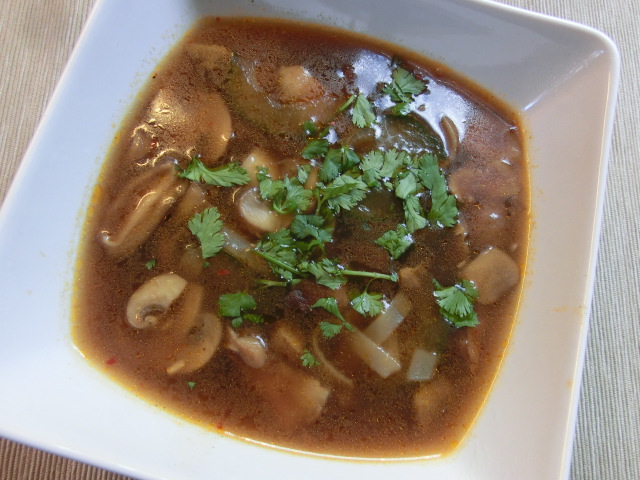 Ingredients
35g dried rice noodles 100g chestnut mushrooms
100g shitake mushrooms
3-4 spring onions
2 cloves of garlic
Half a small cucumber
A small piece of fresh ginger
2 tablespoons of toasted sesame oil
1 porcini mushroom stock cube
1 heaped teaspoon of porcini mushroom powder
900ml water
Half a teaspoon of dried chilli flakes
Salt
1-2 tablespoons of dark soy sauce
A few sprigs of coriander [optional]
Preparation
1. Break the noodles into shorter lengths and cook according to the instructions on the packet. Drain, rinse and set to one side. 2. Wipe the chestnut mushrooms and slice thinly. Wipe the shitake mushrooms and slice into strips. Finely chop the spring onions and the peeled garlic. Chop off the end of the cucumber, slice into halves lengthways, use a teaspoon to scoop out the seeds then cut into thin slices. Peel and grate the ginger.

3. Heat the oil very gently in a large saucepan, stir fry the chopped spring onions and garlic for just 30 seconds and then add the ginger and mushrooms and cook, stirring constantly, for 2-3 minutes.

4. Make the mushroom broth by adding the crumbled stock cube and porcini powder to 900ml boiled water, then stir the broth into the pan. Add the noodles and chilli flakes and bring to the boil.

5. Add the sliced cucumber and season to taste with salt and soy sauce. Simmer gently for 2-3 minutes.

Serve sprinkled with chopped coriander leaves if liked.
Cooks Note
This light clear soup is so simple to make but full of flavour. My preference is to use a mixture of chestnut and shitake mushrooms, but it works well with any combination of mushrooms so take your pick.
If you have the time you can make your own broth as a base, using mushrooms, onion, carrot and bay leaves. Or, like me, do it the quick way using a porcini mushroom stock cube and a little porcini mushroom powder if you have some.
Serves 4.