One-Pan Spring Chicken with Asparagus and Edamame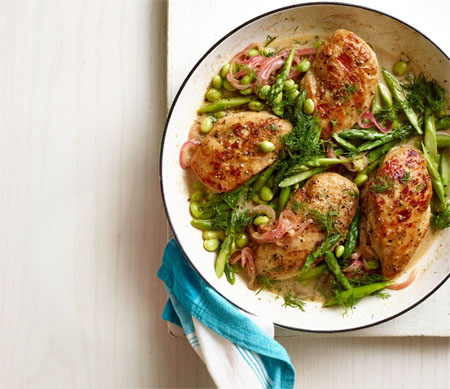 Ingredients
3 tbsp. all-purpose flour
kosher salt
4 boneless, skinless chicken breasts
2 tbsp. olive oil
1 small red onion
1 clove garlic
0.50 c. dry white wine
1 c. low-sodium chicken broth
1 lb. asparagus
1 c. frozen edamame
2 tbsp. Chopped fresh dill
1 tbsp. sour cream
1 tbsp. fresh lemon juice
Steamed new potatoes or crusty bread
Preparation
In a shallow bowl or pie dish, whisk together the flour and 1/2 teaspoon each salt and pepper. Coat the chicken breasts in the flour mixture.

Heat the oil in a large skillet over medium-high heat and cook the chicken breasts until golden brown on one side, 4 to 6 minutes. Turn the chicken, add the onion and garlic and cook, stirring the onion and garlic occasionally, for 3 minutes.

Add the wine to the skillet and simmer, scraping up any brown bits, until reduced by half, 1 to 2 minutes. Add the broth, return to a boil, then reduce the heat and simmer until the chicken is cooked through, 5 to 6 minutes more.

Two minutes before the chicken is done, add the asparagus and edamame to the skillet and cook, stirring occasionally, until just tender.

Remove from heat and stir in the dill, sour cream, and lemon juice. Serve with potatoes or crusty bread, if desired.