by
Renato Mat. Castro Jr., Head Chef, Sushi Central
Oyako-don (Chicken and Egg Rice Bowl)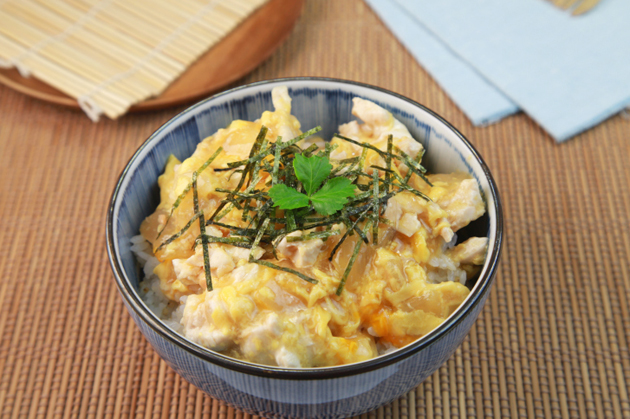 Ingredients
5 oz water
4 to 5 pieces sliced, dried shiitake mushrooms
1 Tbsp light-colored soy sauce
1 Tbsp Mirin
2 tsp sugar
1/3 tsp salt
5 and 1/4 oz Chicken thigh meat
½ onion
2 eggs
2 cups steamed rice
Preparation
Soak dried mushroom in water.

Add soy sauce, mirin, sugar and salt.

Cut chicken into bite-size pieces. Slice the onion.

Put the soy sauce mixture in a skillet and bring to a boil on medium heat.

Put the chicken and onion in the skillet and cover with a lid. Let simmer till cooked.

Beat eggs in a bowl, and pour over the chicken and onion. Cook an additional 10 sec. Remove from heat and cover the skillet until egg is steamed.

Serve over cooked rice in a bowl.
Cooks Note
Oyako-don is a traditional Japanese comfort food. It's healthy, simple, quick and yummy. Even kids will love this Japanese meal!
For more information visit Sushi Central!
20 mins serves 2