Posted on
26 February 2013
Passion fruit and mango mousse cake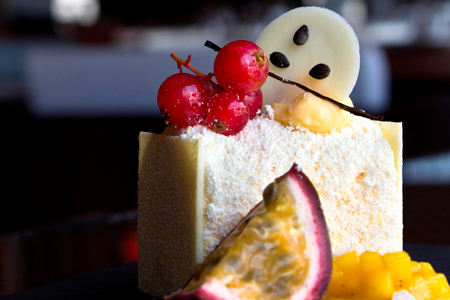 Ingredients
<strong>For Coconut Sponge:</strong>
Grated coconut 120g
Egg white 140g
Sugar 65g
Flour 25g
Icing sugar 100g
<strong>For Mango Mousse:</strong>
Mango puree 250ml
Sugar 50g
Whipped Cream 180g
Gelatin leaf 2No
<strong>
For Passion Fruit Jelly:</strong>
Fresh passion fruit 150g
Gelatin leaf 2No
Sugar 30g
Preparation
Prepare the coconut sponge by whipping together the egg white and sugar until soft peak stage, and slowly add all the dry ingredients. Spread onto baking trays and bake at 180 'c for 10 minutes

Take the pulp of passion fruit and boil it with sugar, strain it to take out some of the seeds, add the gelatin which has been already softened in cold water, and set into a tray.

To make the mango mousse, dissolve the soaked gelatin in a bit of the puree. Then fold the mango puree into the whipped cream and add the dissolved gelatin. Allow to set in the fridge.

Built the cake into a terrine mold. Spread some mousse at the bottom, then the jelly in the middle and finish with the Coconut sponge. Then let it set in the deep freezer.

Un mould and cut to size.

For garnish use white chocolate decoration, some berries and a fresh mango chutney.
Cooks Note
Also known as Aam ka mitha. Recipe for 4 persons.
Armani Ristorante, Taste of Dubai 2013