Pear, Ginger and Walnut Cake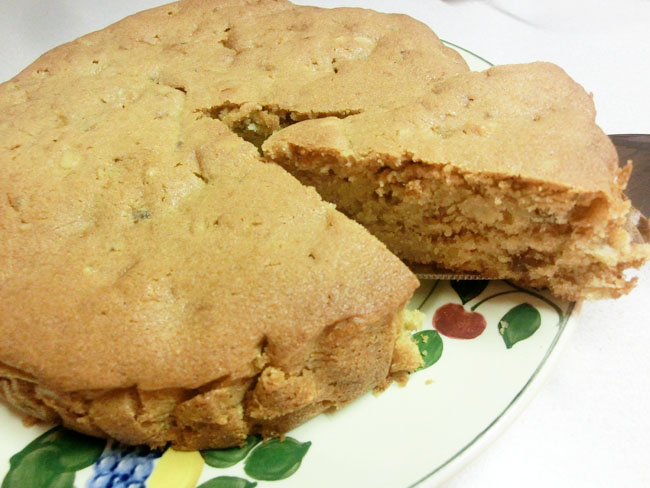 Ingredients
175g soft margarine
85g golden caster sugar
90g light muscovado sugar
2 large eggs
1 teaspoon of vanilla extract
2 tablespoons of milk
200g self raising flour
2 teaspoons of ground ginger
Salt
30g walnut halves
3 ripe pears
Preparation
1. Preheat the oven to 160 degrees, or 140 degrees fan oven. Lightly grease a 20cm loose bottomed cake tin and line it with baking parchment.

2. Pour the two sugars into a large bowl, add the soft margarine in small pieces and mix everything together well.

3. Whisk the eggs then add them to the sugar and margarine and beat the mixture until everything is combined. Add the milk and vanilla extract and beat them in too.

4. Sift in the flour, add the ground ginger and a pinch of salt then carefully fold them all into the mixture.

5. Peel and core the pears and chop them into small pieces, then chop the walnuts into very small pieces. Gently stir them both into the mixture until they are evenly distributed.

6. Pour the cake mixture into the prepared cake tin and spread it out evenly. Bake for 70-80 minutes, until the cake is cooked right through and looks golden brown on top. [Test with a skewer

it should come out clean if the cake is cooked.] Remove from the oven and allow to cool on a cooling rack. Keep in an airtight container once cooled.
Cooks Note
Serve it as a dessert with vanilla ice cream, custard or clotted cream, or just treat yourself to a slice with a nice cup of tea.