Posted on
30 December 2013
Pepper Chicken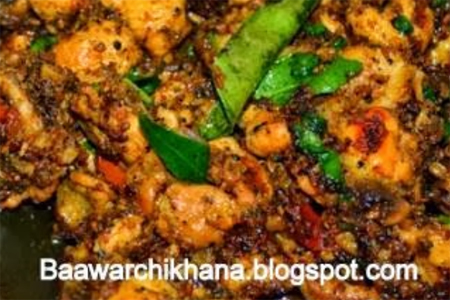 Ingredients
4 tsp Peppercorn
3 Cloves
1 tsp Cumin seeds
1 tsp Fennel seeds
6 flakes Garlic
1" Ginger
1 Onion chopped
1 Tomato chopped
1 cup chopped coriander leaves
1/2 tsp turmeric powder
Salt to taste
1/2 kg Chicken (cut into pieces)
3 tbsp Oil
50 gm shallots (small onion) peeled
1 sprig curry leaves
Preparation
Blend all ingredients, except chicken, oil, shallots and curry leaves to a smooth paste. Add chicken. Set aside for an hour.

Heat 2 tbsp oil in a pan. Add chicken with the marinade.

Cover and cook on medium heat till chicken is done and then cook uncovered until gravy is thick and coats the chicken.

To make the tempering saute shallots and curry leaves in 1 tbsp oil. Add to the chicken and serve hot.