Posted on
19 October 2016
Pita Bread Pizza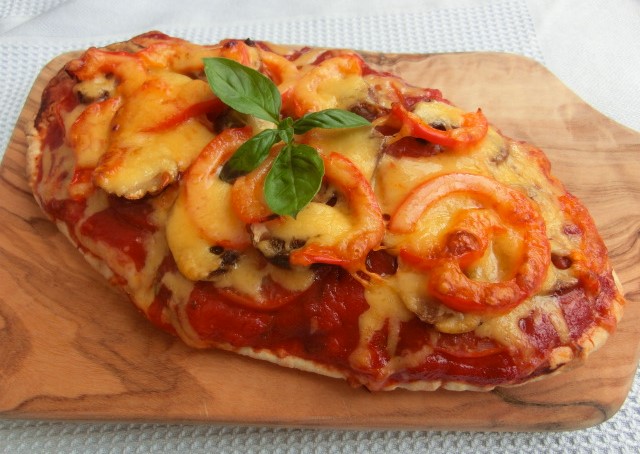 Ingredients
200ml tomato passata 1 fat clove of garlic
1 tablespoon of tomato puree
A few sprigs of fresh basil
Salt
Freshly milled black pepper
4 wholemeal pita breads
4 small vine tomatoes
1 red pepper
A handful of button mushrooms
100g mature cheddar cheese
Preparation
1. Preheat the oven to 200 degrees, 180 degrees fan oven. 2. To make the tomato sauce, spoon the passata into a small bowl, add the peeled and crushed garlic, the tomato puree and the finely chopped basil leaves then mix well together. Season to taste with salt and black pepper. [If you have time, you can make this in advance and leave it chilling in the fridge.]

3. Spoon tomato sauce onto each pita bread and spread quite thickly. Slice the tomatoes thinly and place on each pita. Deseed, chop into quarters and cut the red pepper into thin strips then add that to the topping. Wipe and thinly slice the mushrooms and scatter them onto the tomatoes and pepper.

4. Grate the cheese and divide it between the 4 pizzas, sprinkling it onto the top of the vegetables.
Cooks Note
Pizzas made using pita bread as a base are surprisingly delicious, a great quick meal for times when children, or adults, come home hungry and just can't wait to eat!
Pita bread makes a lovely thin, crisp crust when baked, without too many calories, and if you spread this with a quick homemade tomato sauce and pile on fresh, colourful vegetables and other favourite toppings, it's a winner! I think it's far tastier than frozen pizza, and healthier too.
Makes 4 pizzas.