Poulet Au Vinaigre (Chicken with Vinegar)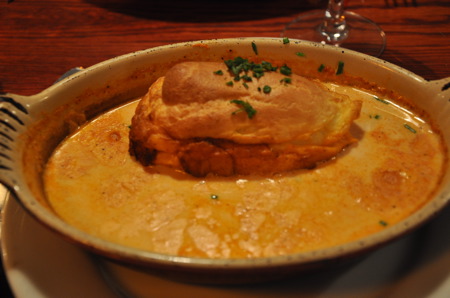 Ingredients
3 tbsp extra-virgin olive oil
1.8 kg chicken, cut into 10 pieces
3 tbsp unsalted butter
12 large garlic cloves, unpeeled
1 bay leaf, salt, pepper
1 cup Banyuls vinegar or red wine vinegar
500 ml of chicken stock
50 ml of creme fraiche
Preparation
In a deep pan, heat the oil.

Season chicken with salt, pepper, add to the pan and cook over until browned.

Add the butter and swirl to coat the chicken.

Turn the chicken side up and add the garlic, bay leaf.

Transfer the pan to the oven and bake for 8 mins, until the breast pieces are white.

Transfer them to a plate.

Add the vinegar to the pan, return to the oven and bake the remaining chicken, basting a few times, 15 mins longer. Transfer the chicken and garlic to the plate.

Add the chicken stock to teh pan and boil, scraping up the browned bits, until reduced to 300 ml.

Whisk in the creme fraiche and the remaining 2 tablespoons of butter.

Return the chicken tot he pan.

Simmer until the sauce thickens and the chicken is heated, about 3 mins.

Season with salt, pepper. Serve with the steamed herb.
Cooks Note
Recipe contributed by Aga Marchewka.