Prescy's Garlic Beef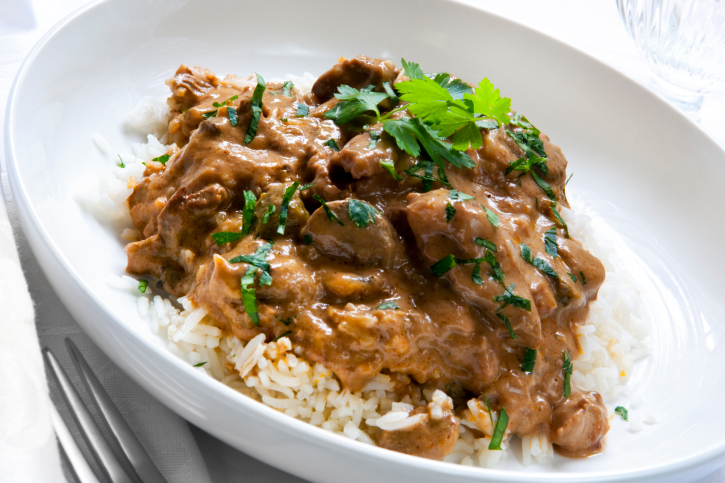 Ingredients
1 kg beef (cut into cubes)
Marinate the beef for 6-8 hrs with:
1/2 cup vinegar
4 tbsp soya sauce
1 tbsp salt
1 tbsp pepper
1 tbsp grated ginger
2 tbsp crushed garlic
1 tsp chili powder
1/4 tsp turmeric powder
<em><strong>FOR THE GRAVY:</strong></em>
3 large onions (cut into round slices)
4-6 tbsp tomato ketchup
1 tbsp crushed garlic
4 tbsp vinegar
2 tsp pepper (optional)
8-10 tbsp oil
Preparation
To start off with, you must first fry the meat pieces in oil or butter - till it becomes a nice dark brown colour.

Remove and keep aside.

Heat oil.

Fry onions till transparent.

Add garlic and fry a little.

Then add ketchup, vinegar and pepper.

Add remaining sauce of the marinated meat.

When the oil separates, add the fried meat.

Add 3-4 cups of water and cook till tender.

After 6-8 hrs or overnight, boil the meat in the same vessel that it was marinated in.

After the meat is half cooked, drain the stock and keep it aside.

Then add oil to the same vessel and fry the meat for sometime

Or, you could fry small batches of meat in a vessel.

In another vessel, fry the onions and then follow the necessary recipe as above.

You can add water according to how thick you want the gravy.

This mouth-watering dish is best eaten with white bread or pita bread.