Rice Noodles with Prawns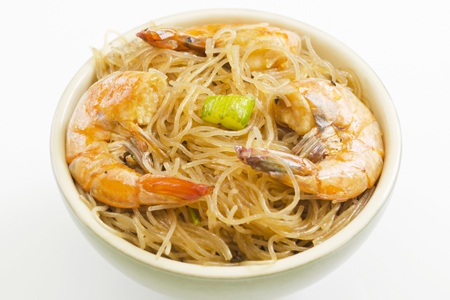 Ingredients
1 kilo cooked bihon (rice noodles)
<strong>For the Sauce:</strong>
4 tbsp cooking oil
1 head garlic – crushed
Half cup finely chopped onion
1 cup smoked fish (deboned tinapa) - flakes)
3 cups chicken or shrimp stock
1 cup cornstarch or all purpose
2 eggs – beaten
1 tbsp Achuete powder
<strong>For the toppings:</strong>
3 pc sliced hard boiled eggs
I cup cooked and flakes chicken
1 cup cooked peeled shrimp
1/2 cup chopped spring onions
3 tbsp fried crispy garlic
1 cup crushed crispy chicken skin
Lemon wedges
Preparation
Saute' garlic, onion and half of the tinapa flakes.

Stir in the diluted cornstarch or all purpose flour (diluted in chicken or shrimp stock) and achuete powder, bring to boil while stirring occasionally.

Add the beaten eggs, lower the heat and simmer to thicken the sauce. Remove from heat and set aside.

Arrange the cooked noodles on a serving plate. Pour over the sauce and garnish with boiled egg, crispy garlic, flaked chicken, shrimps, crushed chicken skin and the remaining tinapa. Sprinkle with chopped spring onion on top.

Serve with lemon wedges.