Posted on
17 September 2012
Roasted Tomato Soup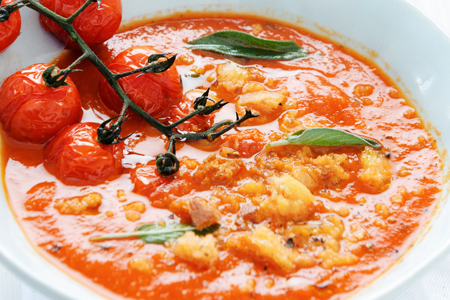 Ingredients
Olive oil
10 cherry tomatoes
1 tin diced tomatoes
salt and pepper for seasoning
1 carrot, diced
1 onion, diced
2 cloves garlic, diced
1tsp. dried basil
16fl oz. vegetable stock
4oz. sour cream
1fl oz. red wine
Preparation
Preheat the oven to 240°C and strain the water from the tinned tomatoes reserving it for later. Place the tinned tomatoes and cherry tomatoes on a baking sheet and drizzle generously with olive oil

season well and bake, stirring occasionally, for 40 minutes, until the tomatoes begin to caramelize

Sauté the diced carrots and a diced onion in some olive oil until soft, then add the garlic and dried basil. Once the carrots have softened considerably, add the reserved tomato juice and vegetable stock and bring them to a simmer, add the tomatoes to the pot and simmer for a couple of minutes, then puree as much as possible.

Add the sour cream and wine and finally, salt and pepper to taste.