Russian tea cakes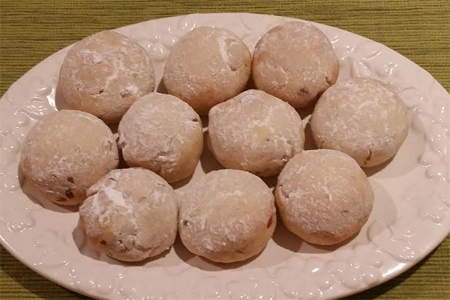 Ingredients
All Purpose Flour: 1 cup
Unsalted Butter: 113 grams or 1/2 cup
Vanilla Essence: 1/2 tsp
Icing Sugar: 3 tbsp (plus some more for dusting later)
Chopped Walnuts: 1/2 cup
Preparation
Pre-heat your oven to 175 degrees Celsius and have your baking mat ready.

You can either do the following in your food processor or just simply using your hands.

In a bowl, beat together the unsalted butter and vanilla essence.

Sift and add the flour followed by icing sugar and continue to mix until all ingredients are well combined.

Add the chopped walnuts (or any nuts of your choice) and give it one final mix.

Make 1 inch dough balls and place on your baking mat leaving some space between each one.

Bake your Russian Tea Cakes for approximately 12 minutes or until the edges are light golden brown.

Once the Russian Tea Cakes have cooled, roll them in icing sugar and serve!

Congratulations! Your Russian Tea Cakes are ready to be consumed!
Cooks Note
The Bakealogue is all about sharing baking experiences .. whether it's recipes, books, tutorials, gadgets or reviews ... it's all about baking!
www.thebakealogue.wordpress.com