Sayadieh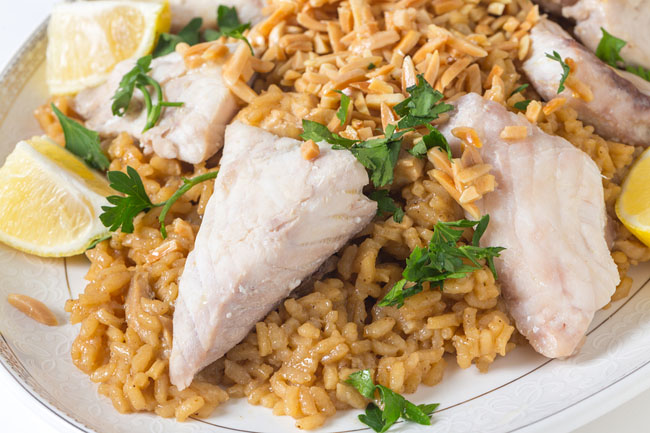 Ingredients
2 tbsp oil, plus extra for deep frying
2 tbsp pine nuts
3 onions, sliced
2 cups rice
1/4 tsp mixed spices
2 chicken bouillon cubes, dissolved in 3 cups of of hot water
4 white fish fillets (cod or haddock)
1/2 tsp turmeric powder
3 tbsp seasoned flour
fried onions, to serve
tahini, to serve
salt and pepper
Preparation
1. Heat oil in a pan and fry pine nuts until golden brown. Remove nuts using a slotted spoon.

2. In the same pan, add onions and saute until brown. Add rice, spices, salt and pepper and stir until rice is well-coated with oil. Add bouillon solution, bring to a boil then lower heat. Cover and simmer for 20 minutes. Add pine nuts and stir gently.

3. Meanwhile, coat fish with turmeric and seasoned flour. Deep-fry until golden brown. Alternatively, season the fish with salt and pepper and pan-fry.

4. Serve fish and rice with fried onions and tahini.