Posted on
2 September 2015
Sea Bass with Chilli and Ginger Noodles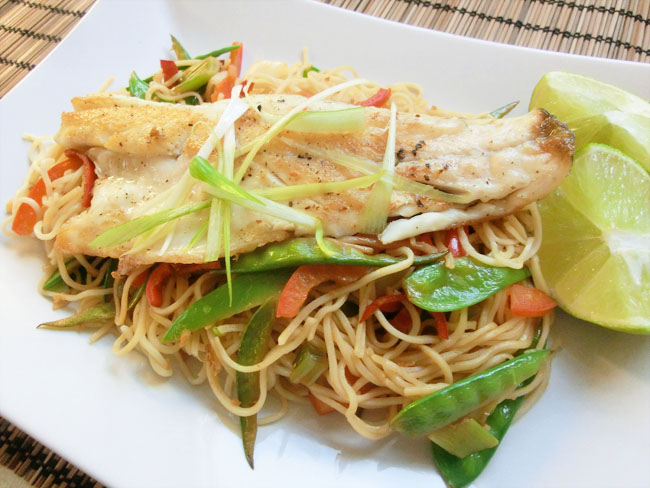 Ingredients
2 fillets of sea bass
Salt and freshly milled black pepper
2 tablespoons of sunflower oil
1 tablespoon of toasted sesame oil
A small piece of fresh ginger
1 or 2 red chillies
1 red pepper
2 cloves of garlic
3-4 spring onions
A handful of mange tout
100-120g fine egg noodles
1 tablespoon of light soy sauce
1 lime
Preparation
1. First prepare the vegetables. Peel the ginger and grate it. Deseed and finely slice the red chilli, 1 or 2 depending on the amount of chilli you like in your food. Deseed and chop the red pepper into thin strips and peel the cloves of garlic. Chop the spring onions into pieces diagonally, and slice the mange tout in half diagonally.

2. Make sure that the fish has had the scales removed, but keep the skin on. Make 2 or 3 diagonal slashes in the skin of each fillet then season both sides of the fish with salt and black pepper. In a large frying pan, heat the sunflower oil and cook the skin side of the sea bass until it is browned and crisp, for 4-5 minutes, before frying the other side for just a minute to cook it through. Remove from the heat, cover and keep in a warm place.

3. For the chilli and ginger noodles, cook the noodles in boiling water according to the instructions on the packet, usually just for 2 or 3 minutes. Meanwhile, heat the sesame oil in a wok then add the grated ginger and chilli with the crushed garlic and sliced peppers and lightly stir fry for 2 minutes. Add the spring onions and the mange tout, together with the soy sauce and the juice of half of the lime, then toss everything together with the hot noodles for 1 minute.

Serve the sea bass on top of a bed of noodles, garnished with a little red chilli or some finely sliced spring onion. Cut the remaining half of lime into two wedges to squeeze over the fish before eating.
Cooks Note
Try replacing the sea bass with other types of white fish, or salmon perhaps.
If you don't want to have noodles you could simply serve the fish on top of the stir fried vegetables, accompanied by jasmine rice or crushed potatoes with salad or fresh green vegetables.