Posted on
27 October 2014
Slow braised lamb shank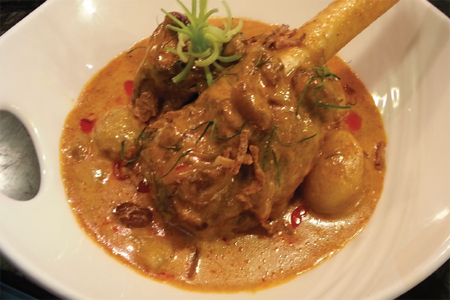 Ingredients
500g lamb shank
150g Massaman curry paste
150ml water
200ml coconut milk powder
2g coconut sugar
100g baby potato, boiled
100g onion white
5g bay leaves
20g peanut raw
20g fried onion
3g red curry oil
3g lemon leaves fresh julienne, sliced
5g spring onion
Salt
<strong>For the lamb shanks:</strong>
500g lamb shank
15g Massaman curry paste
8ml coconut milk
300ml water
7g coconut sugar
30g peanut, cooked
Salt
Preparation
<strong>Preparing the lamb shanks:</strong>

Gather all the ingredients and keep aside.

In a container, place the lamb shank with coconut milk, massaman curry paste and coconut sugar.

Add salt, peanut and fill with water until the meat is covered with.

Cover with a cling film and aluminum foil and steam for 2 hours or until the lamb is tender.

Remove from the steamer and allow it to cool.

Transfer to a container, cover and keep in a chiller.

<strong>Final preparation:</strong>

Gather all the ingredients from the (main ingredients list) and keep aside.

In a small pot, add coconut milk, massman curry paste, white onion, baby potatoes, bay leaf

and peanut. Let it boil.

Once boiling add the lamb shank and let it boil one more time.

Then season with salt and coconut sugar to taste.

Transfer to curry bowl.

Garnish with fried onions, lemon leaves and spring onion. Top with red curry oil.