Slow Cooked Sesame Ginger Chicken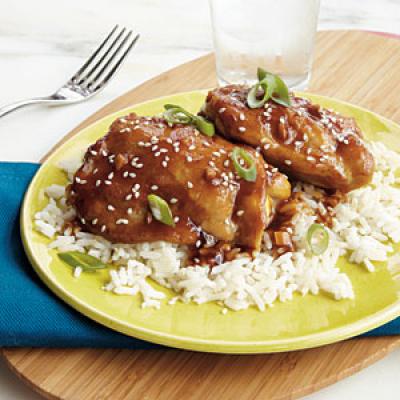 Ingredients
1 tablespoon sesame oil
8 bone-in chicken thighs (2 3/4 pounds), skinned
Cooking spray
1/4 cup lower-sodium soy sauce
2 tablespoons light brown sugar
2 tablespoons fresh orange juice
5 teaspoons hoisin sauce
1 tablespoon minced peeled fresh ginger
1 teaspoon minced garlic
1 tablespoon cornstarch
1 tablespoon cold water
2 teaspoons toasted sesame seeds
2 tablespoons sliced green onions
Preparation
1. Heat a large nonstick skillet over medium-high heat. Add oil to pan

swirl to coat. Add chicken

cook 4 minutes on each side or until golden. Transfer chicken to a 4-quart electric slow cooker coated with cooking spray.

2. Combine soy sauce and next 5 ingredients (through garlic)

pour over chicken. Cover and cook on LOW for 2 1/2 hours or until chicken is tender. Transfer chicken to a platter

keep warm.

3. Pour cooking liquid through a sieve into a small saucepan to measure 1 1/4 cups. Discard solids. Bring cooking liquid to a boil over medium-high heat. Combine cornstarch and 1 tablespoon cold water in a small bowl. Add cornstarch mixture to sauce, stirring with a whisk until blended. Return to a boil. Cook 1 minute or until sauce thickens, stirring constantly. Serve sauce over chicken. Sprinkle with sesame seeds and green onions.