Posted on
18 October 2012
Spinach Cheese Fondue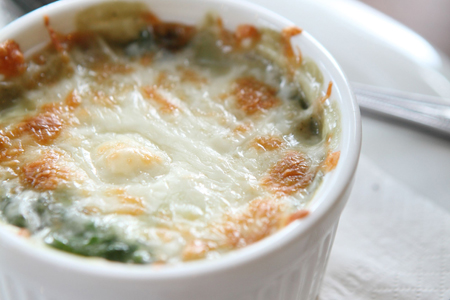 Ingredients
2 packets cheddar cheese
1 1/4 cup cream cheese
2 1/4 cups fresh spinach - chopped fine
8 cloves garlic - chopped fine
1 1/4 cup dry white wine
2 1/4 tbsp butter
2 1/4 tsp cornstarch
Salt and freshly ground pepper to taste
Preparation
First, melt butter in medium pan on medium heat.

Then add the garlic, salt and pepper, and allow it to cook on the heat for 2 minutes.

Mix well.

Stir in the wine and bring to a simmer.

After that add the shredded cheese with cornstarch - 1/2 cup (at a time), to wine mixture.

Once everything is in and combined nicely, allow the mixture to cook for a minute.

After the cheese is completely melted, stir in the cream cheese.

Now let this cook till everything is melted and combined thoroughly.

Then add the spinach and allow to cook for another 2 minutes.

Keep stirring.

Serve in a fondue pot with cubes of bread speared on a fondue stick into the bubbling cheese mixture.
Cooks Note
You can take out the spinach and decrease the quantity of garlic - if you want to make a simple plain cheese fondue.
Try using Beja cheese for this recipe.