Strawberry bruschetta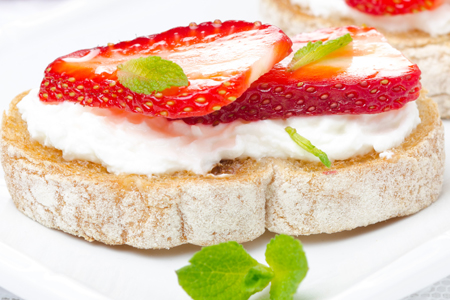 Ingredients
10 pcs strawberries, diced
1 tbsp sugar
1 French baguette, sliced
4 oz. goat cheese
1 tbsp olive oil
2 tsp balsamic vinegar
1/4 cup minced basil leaves
Ground black pepper
Preparation
Combine strawberries and sugar in a bowl.

Wait for half an hour then spread a thin layer of cheese on top of each baguette slice.

Now place strawberry mixture on top of the baguette and drizzle with balsamic vinegar and olive oil.

Lastly, put basil leaves and pepper on top to taste.

Enjoy this simple recipe with friends at home.