Stuffed Squash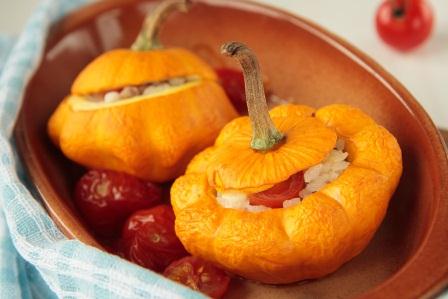 Ingredients
4 golden nugget squashes
Olive oil
4oz. sausages of your choice, casing removed
1 onion, diced
2 garlic cloves, minced
2 carrots, diced
4fl oz. water
2 cups cooked quinoa
½ oz. fresh parsley, chopped
½ oz. fresh thyme, chopped
Salt and pepper to season
3oz. gouda or mild cheddar, grated
Preparation
Cut the tops off the squash and set them aside. Remove the seeds. Steam the squash on high for 15 minutes in the microwave. Set aside and allow to cool.

Preheat the oven to 180°C.

Heat a smidgen of oil in a large pan and sauté the sausages until they are browned. Remove them from the pan using a slotted spoon and set to one side. In the same pan sauté the onion, garlic and carrot for a few minutes. Add the water and bring to boil. Reduce the heat and simmer for a few minutes until the carrots have softened.

Combine the sausage meat, vegetables and quinoa. Stir in 2 ounces of cheese and stuff the squash with this mixture. Arrange the squash in an oven proof dish, top them with the remaining cheese and place the tops of the squash in the dish as well. Bake for 20-25 minutes until the cheese starts to brown.

Remove from the oven and place the caps onto the squash. Serve hot.