Sultana Scones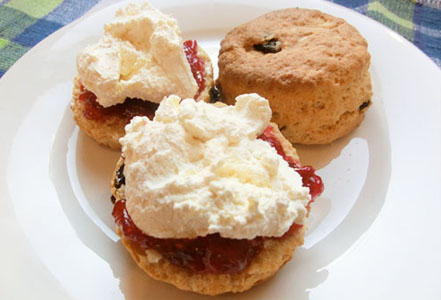 Ingredients
<strong>You will need:</strong>
350g self raising flour
A sprinkling of salt
1 level teaspoon of baking powder
85g soft margarine
55g golden caster sugar
80g sultanas
150g low fat crème fraiche
4 tablespoons of semi-skimmed milk
Half a teaspoon of vanilla extract
Milk to glaze
<strong>
</strong>Makes 10-12 scones
Preparation
1. Preheat the oven to 220 degrees or 200 degrees fan oven. Lightly grease a baking tray and line with baking parchment.

2. Sieve the flour into a large bowl then add the salt and baking powder. Add the soft margarine, cut into small pieces, and rub into the flour until it resembles breadcrumbs. Stir in the sugar and the sultanas.

3. Spoon the crème fraiche, milk and vanilla extract into a small saucepan then warm over a low heat. Make a well in the centre of the flour and sugar, tip in the warm crème fraiche mixture and fold in using a knife.

4. Pull the mixture together using floured hands, knead briefly and gently, just enough to make a dough, then roll out on a lightly floured surface to about 3 cm in depth. Cut out with a 7cm cutter and place the scones on the prepared baking sheet. Glaze with milk, sprinkle with a little sugar if liked, and bake for 11 or 12 minutes, until they have risen and browned.

5. Serve whilst still warm from the oven, split and heaped with jam and whipped cream or clotted cream.