Posted on
17 September 2012
Szechuan Shrimps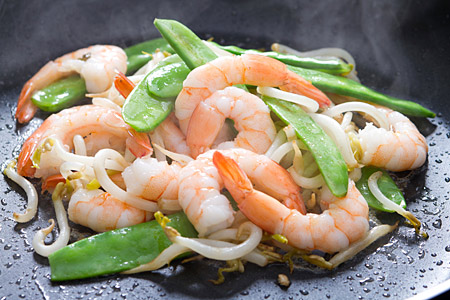 Ingredients
2fl oz. water
0.5fl oz. soy sauce
1 tsp. sugar
1 tsp. garlic-chili sauce
1 oz. ketchup
3 tsp. cornstarch, level
¼ tsp. ground ginger
½ tsp. red pepper flakes, crushed
0.5fl oz. oil
1 red bell pepper, diced
4 spring onions, chopped
4 cloves garlic, minced
0.5lb. shrimp, cleaned
Preparation
In a bowl combine the water, soy sauce, sugar, garlic-chili sauce, ketchup, cornstarch and ginger. Stir until smooth

In a wok or frying pan heat the oil. Stir fry the peppers, garlic and spring onions for about a minute. Add the shrimps and continue to stir fry for 30 seconds

Stir in the sauce and cook until the sauce has thickened

Serve with rice.
Cooks Note
Preparation time: 20 minutes; Cooking time: 10 minutes; Serves 4