Tangy Taco Tarts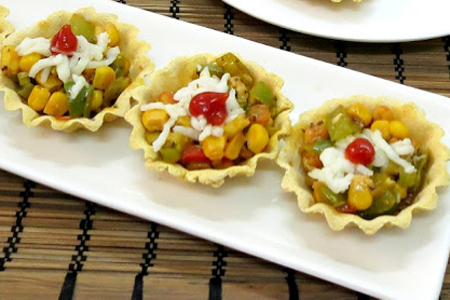 Ingredients
Corn Meal /makki ka atta - 3/4 cup
Refined flour - 1/4 cup
Baking powder - a pinch
Chili powder - 1/2 tsp
Salt - to taste
Olive Oil - 1.5 tsp
<strong>Topping:</strong>
Red Bell Pepper,chopped - 3 tbsp
Yellow Bell Pepper, chopped- 3 Tbsp
Green Bell Pepper, chopped - 3 tbsp
Tomato, chopped - 1 cup
Corn Kernels, boiled - 1/2 cup
Green Chillis, chopped - 1 tsp
Jalapeno, chopped - 1.5 tsp
Cheddar Cheese - 1 tbsp
Chilli Flakes - 3/4 tsp
Ground cumin-1/3 tsp
Salt - to taste
Oregano - 1/2 tsp
Processed Cheese - 1 tbsp
Tomato Ketchup - 2 tsp
Preparation
<strong>Dough:

</strong>In a bowl add corn meal, refined flour, salt, chili powder, baking powder and oil, mix well and then add warm water and make a medium soft dough.

Rub the dough for a minutes and make small balls from the dough.

Dust with refined flour and roll to make a tortilla and prick with a fork.

Place the rolled tortilla/disc inside the greased tart mould and press gently and then cut off any extras from the edges.

Brush the inside of the tarts with little olive oil.

Keep the tarts in the preheated oven at 160 degree and bake for approx. 20 minutes.

When tart get a nice golden colour, remove from the oven and keep aside.

<strong>Topping:</strong>

In a pan heat 2 tsp oil and add chopped bell peppers and saute for a few seconds.

Now add corn kernals, jalapeno, green chilies, salt,chili flakes, ground cumin and oregano and saute for a few seconds.

Add chopped tomato and stir fry to make them slightly soft but crunchy.

Add cheddar cheese, mix and take out in a bowl.

Fill the baked tarts with approx. 1 tbsp of topping and put some grated cheese on the top.

Dot with ketchup and garnish with basil leaf.

Serve with ketchup.

<strong>Variation:</strong>

You may also fry the tarts in hot oil. Fry with the tart mould then remove from the mould when done (while hot).