Tomato Bisque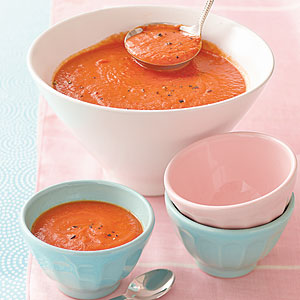 Ingredients
2 tablespoons unsalted butter 1 yellow onion, finely chopped 1 tablespoon sugar 1 tablespoon all-purpose flour 1 14.5-oz. can low-sodium chicken broth 2 28-oz. cans crushed tomatoes 1 cup half-and-half 1/4 teaspoon cayenne pepper Salt
Preparation
1. Melt butter in a large saucepan over medium heat. Add onion and sugar and cook until onion is soft and golden, 3 to 5 minutes. Stir in flour and cook, stirring constantly, 1 minute.

2. Slowly pour broth into pan, scraping brown bits from bottom. Stir in tomatoes. Bring to a boil, lower heat and simmer until soup has thickened, about 15 minutes.

3. Puree mixture in batches and return to pot. Stir in half-and-half and cayenne pepper. Season with salt. Heat through and serve.