Tomato & Garlic Meatballs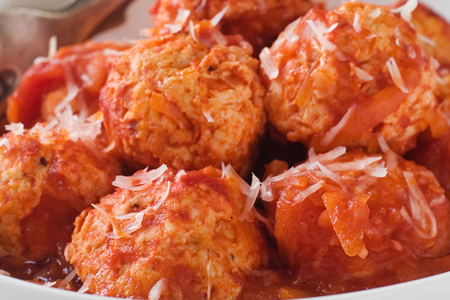 Ingredients
1kg lamb meat
1/4 cup breadcrumbs
2 eggs
1/4 cup seasoned flour
1/4 cup olive oil
1 large onion chopped
1 green pepper - cut into medium sized strips
2 large tomatoes - skinned and chopped
1 tbsp tomato paste
1 glass of dry red wine
5/8 cup chicken stock
2 tsp crushed garlic
1/2 teaspoon nutmeg
1 tbsp chopped parsley
Salt
Black pepper
Preparation
In a large bowl mix the lamb with the breadcrumsb and season well.

Add one tsp of the garlic (crushed), nutmeg and eggs.

Form the meat mix into small meatballs, and then roll in the breadcrumbs.

Heat the oil in a large pot, and cook the onion and green pepper until tender.

Add the meatballs and fry until browned on all sides. Make sure to stir the meatballs well at this point.

add the remaining garlic, tomatoes, tomato paste, wine and stock.

Then cover for around 40 minutes - allowing it to simmer.

Finally, season and stir in the parsley.

Add a little sugar if the sauce is too tangy and tart to taste.

Serve with crusty bread or pasta.