Posted on
30 September 2012
Traditional Toffee Apples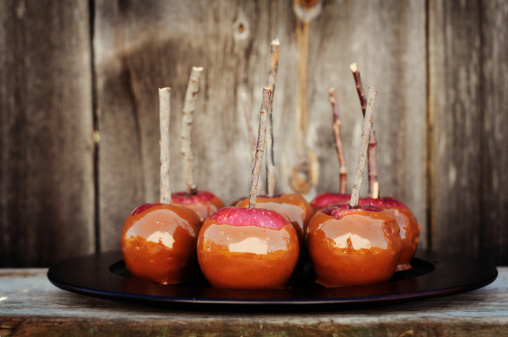 Ingredients
6 wooden chopsticks
6 dessert apples
1fl oz. water
1lb. dairy toffees
½ tsp. vanilla extract
Additonal sweets or toppings to decorate as required
Preparation
Insert the chopsticks into the apples so that the apples are securely on them

in a saucepan combine the water and toffee and stir often until the toffee has melted, stir in the vanilla

Dip each apple into the toffee and gently scrape off any access toffee

You can get creative here if you want by sticking sweets onto the toffee while it's stciky- try smarties, M&Ms or little baby marshmallows for fun. dried coconut and nuts can also be used.

Refrigerate until ready to serve.
Cooks Note
Prep time: 15 minutes
Cook time: 5minutes
Serves 6