Posted on
8 November 2015
Tuna Tartare On Kataifi Dough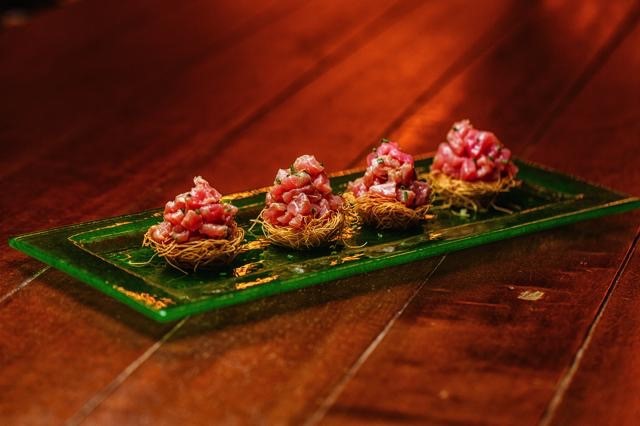 Ingredients
<strong>Kataifi Dough:</strong>
100g Fresh Kataifi Dough
200g Fresh Blue fin Tuna Saku Grade AAA
30g Shallots
30g Capers
20g Chives
10g Coriander
<strong>Yuzu Vinaigrette:</strong>
20g Sherry vinegar reduction
10g Yuzu Juice
20g Soy Sauce
50g Extra Virgin Olive Oil
Preparation
Heat the oven to 180 Degrees.

Shape the Kataifi into small nest like shape 5cm in diameter, place the Kataifi on a baking dish and once the oven if fully heated, put the Kataifi in the oven until golden crisp.

Mix the Tuna, shallots, capers, chives and coriander together in a large bowl, and once the dough is ready fill in the crispy Kataifi dough with the tuna mix.

For the vinaigrette mix all the ingredients to gather and sprinkle on the tuna once done and serve.