Posted on
18 October 2012
Vegetable Biryani Pulao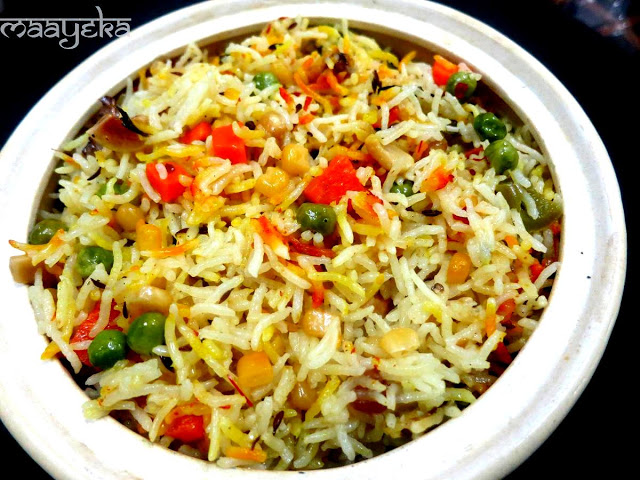 Ingredients
Basmati rice - 1 1/12 cup
Mix vegetables - 3 cup
Paneer cubes - 1/2 cup (optional)
Mint leaves - 10
Cashew nuts - 10
Raisins - 2 tbsp
Curd (Yoghurt) - 2 tbsp
Saffron - 1/4 tsp
Milk - 2 tbsp
Salt - 1 1/2 tsp
Green chilies - 4
Ginger juliennes - 1 tsp
Dried rose petals OR rose water - 1 tsp (optional)
Garam masala powder - 1/2 tsp
<em><strong>Tempering</strong></em>
Ghee - 5 tbsp
Cumin seeds - 1 tsp
Cloves - 4
Whole red chillies - 3
Green cardamom - 5
Black cardamom - 2
Bay leaves - 3
Cinnamon - 1 inch
Whole pepper corn - 10
*Tempering "Chaunk" or "Tadka" in Hindi: refers to the frying of Indian spices to release their aroma (in India).
Preparation
Wash and soak rice for 30 minutes in enough water.

Take saffron in a glass bowl, cover and heat it for 30 seconds to make it crisp.

Take out and crush it and soak in 2 tbsp of milk.

Chop mix vegetables - carrots, beans, cauliflower, capsicum (or any vegetable of your choice) into small pieces and wash peas and corn kernels.

Slit green chilies lengthwise.

Crush and open both the cardamoms and take out the seeds.

Heat oil in a pan add ghee (you can also use oil, but ghee gives a very nice flavour to any rice preparation)

When ghee become warm add all the tempering ingredients and cashews, and saute till golden in colour.

Drain water from the rice, and add rice, raisins and slit green chilies in the ghee and saute gently for few seconds.

Now add curd and all the vegetables, saute for few seconds

Add salt, garam masala, mint leaves, rose petals, ginger, paneer and 3 1/2 cups of warm water.

When water start boiling, lower the heat, cover and cook till 80% done.

Open the pan and drizzle the saffron mixture, cover and cook till done.

When done, open the lid after 5 minutes and let it cool down completely otherwise it may overcook due to the heat and steam build up inside.

Gently fluff the rice after 10 minutes.

Serve hot.

Best served with salad, raita, curd and mirchi ka salan (Hyderabadi Mirchi Ka Salan - stuffed jalapeno's in a tangy coconut, cashew and sesame sauce).