Posted on
16 October 2012
Veggie Fried Rice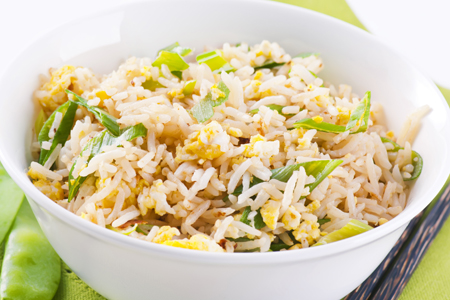 Ingredients
3 cups cooked rice
1 1/2 cup package frozen mixed vegetables
2 onions - chopped
2 cloves garlic - chopped
2 eggs - beaten
3 tsp soy sauce
1 tsp chili flakes
2 tsp oil
Preparation
Heat oil on medium-high heat in a large pan.

Then add the cooked rice (boiled and cooked earlier) along with the chopped onions and garlic.

Stir for about 5 minutes or until onion is soft.

Reduce heat to medium.

Now add vegetables and chili flakes to the rice mixture.

Allow the frozen vegetables to cook for 2 minutes.

Then spread the mixture out to the sides of the pan - leaving space in the middle for the eggs.

Thereafter, add the eggs and scramble till cooked.

Mix the eggs with the rice and vegetables.

Then sprinkle the fried rice with some soy sauce and serve hot.
Cooks Note
You can replace the frozen veggies with 2 cups fresh vegetables of your choice - chopped.
Allow the fresh vegetables to cook for 5-7 minutes.