Very Easy Thai Chicken Coconut Soup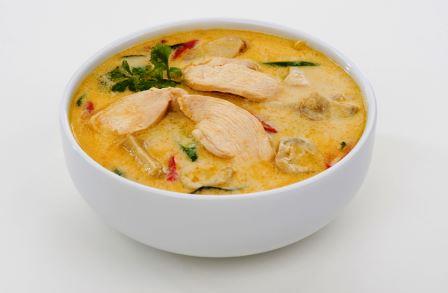 Ingredients
950 ml chicken stock1 stalk lemon grass, only the white part, peel off the outer layer.
3 lime leaves roughly torn, no stems
A 3-inchpiece ginger, peeled and thinly sliced
2 small Thai chilies, halved lengthwise
2 garlic cloves, crushed
1 can coconut milk
2 tablespoons fish sauce (nam pla)
1 1/2 teaspoons sugar
4 limes, juiced
1 1/2 cups chopped cooked chicken
salt and pepper
1/4 cup chopped corriander
Preparation
1. Bring the stock to the boil over medium heat add the lemon grass, kaffir lime leaves, ginger, chilies, and garlic.

2. Lower the heat to medium-low, cover, and gently simmer for 10 minutes to let the spices infuse the broth.

3. Run through a sieve, leaving only the stock.

4. Stir in the coconut milk, fish sauce, sugar, lime juice, and chicken.

5. Simmer for 5 minutes to heat the chicken through

season with salt and pepper.

6. Garnish with cilantro.