Posted on
1 November 2015
Winter Lentil Soup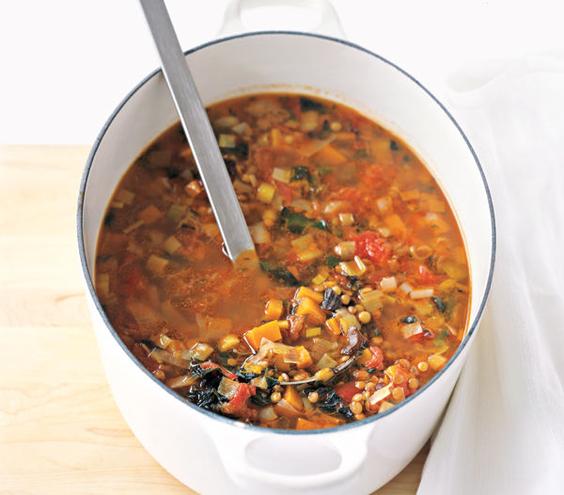 Ingredients
1 tablespoon olive oil
4 leeks (white and light green parts), cut into 1/4-inch-thick half-moons
1 28-ounce can whole tomatoes, drained
2 sweet potatoes, peeled and cut into 1/2-inch pieces
1 bunch kale, thick stems removed and leaves cut into 1/2-inch-wide strips
1/2cup brown lentils
1tablespoon fresh thyme
Kosher salt and black pepper
1/4cup grated Parmesan (1 ounce
optional)
Preparation
Heat the oil in a large saucepan or Dutch oven over medium heat. Add the leeks and cook, stirring occasionally, until they begin to soften, 3 to 4 minutes. Add the tomatoes and cook, breaking them up with a spoon, for 5 minutes.

Add 6 cups water and bring to a boil. Stir in the sweet potatoes, kale, lentils, thyme, 1 ½ teaspoons salt, and ¼ teaspoon pepper. Simmer until the lentils are tender, 25 to 30 minutes.

Spoon into bowls and top with the Parmesan, if using.