Hungry for Italian this Eid? LARTE's Dining Offers Are Too Good to Miss
Enjoy the finest of traditional Italian cuisine with a modern twist at Studio One Hotel's LARTE Caffè & Ristorante
Posted on
8 December 2020
Everyone's invited to dine in true Italian style!
We might not be able to travel freely to Italy right now due to the situation, but thankfully there's another way to get your fix of the European hotspot's best flavours... Right here in Dubai!
LARTE Caffè & Ristorante is offering diners the opportunity to enjoy Italian cuisine, located at Studio One Hotel.
With great offers across the week, LARTE is the perfect spot any day of the week for the whole family! That's right - all of those traditional and modern Italian dishes, with no passport required.
Living by the philosophy of bello, buono e ben fatto—which means 'the beautiful, the good and the well-made'—LARTE focusses on the wholesome qualities of simplicity, honesty, and seasonal food.
Discover fresh servings of scrumptious zucchini, arancini, beef bresaola, and carpaccios alongside bountiful salads, soups, pastas, meat, and fish.
From special happy hour rates to unlimited pizza and wine, delicious family brunches and a sparkling Ladies Night… There's plenty happening at LARTE and we've picked the best dining offers for you to avail - all week long!

Happy Hour from AED 35
Available daily 5pm to 8pm at just AED 35 on cocktails and special offers on beer, wine, and spirits!
Their wine list will take you from Puglia to Sicily, and LARTE's Aperol Spritz has a reputation of being the best in town.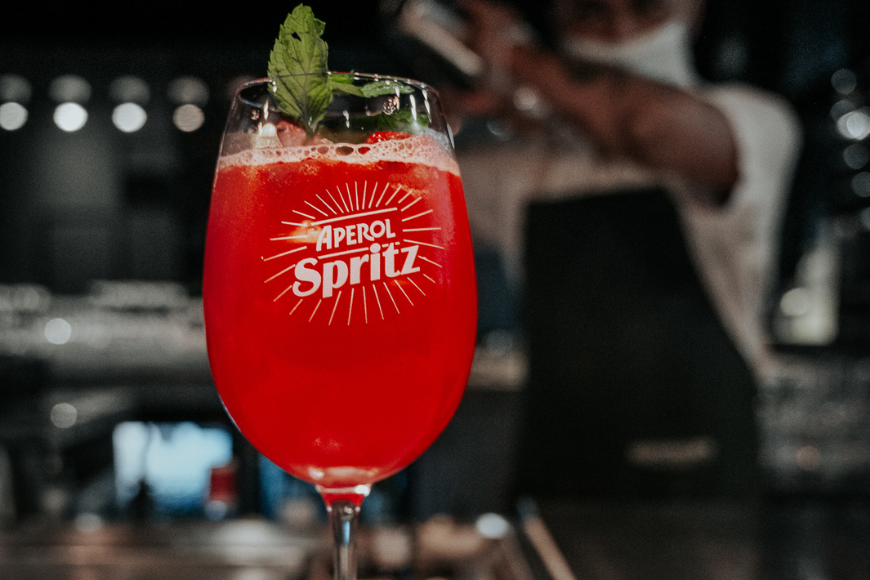 Pictured: LARTE's Aperol Spritz
Breakfast – served every day
If you want to experience an authentic Italian breakfast in a modern setting, LARTE in Dubai is the place for you! Serving up a scrumptious, daily breakfast until 11:30am, your morning appetite is bound to be fully satisfied.
Don't forget to leave a little room for Santa's sweet treat at the end of your meal.

Pictured: Breakfast options at LARTE
Sunday to Thursday – Expresso Lunch
Weekdays (Sunday to Thursday)
From 12pm to 3pm
AED 59 for a two-course lunch
LARTE's lunch menu only complements its beautiful interior design by serving traditional Italian dishes with a modern twist. Their Expresso Lunch brings a slice of Italian to your day at a bargain deal of just AED 59 per person. No excuse to miss!

Pictured: Outdoor dining at LARTE
Monday - Unlimited Meatballs & Glass of Wine
Every Tuesday
From 6pm
AED 99 for unlimited meatballs and a glass of wine
Feast on unlimited servings of scrumptious Italian meatballs in a bright and tastefully done modern ambience. Expect a modern twist on one of the world's most popular menu items, with a refreshing glass of wine in hand.

Tuesday – Ladies Night
Every Tuesday
AED 99 for 3 drinks and a main course
It's the perfect recipe for the ultimate ladies night out in Dubai! Grab a girl friend and enjoy a delicious main course of choice with three beverages to help you kick back and relax during the mid-week. Perfect for those hump day blues!
Wednesday – Unlimited Pizza & Wine
Every Wednesday
2 hours
AED 149 for unlimited pizza and unlimited wine
Just like the name on the tin - Wednesdays at LARTE means UNLIMITED pizza and wine. Yes, you read that right. Ideal for a date with your partner or a family day out.

Friday – Family Brunch
Every Friday
Packages start from AED 269 for house beverages and AED299 for premium beverages
Kickstart the weekend break a fab Italian brunch in Dubai, where kids can dine for FREE! Families are also welcome to enjoy a wide range of activities at Studio One Hotel, including watching movies, free pool access AND an exciting game room.
Friday & Saturday – Afternoon Aperitivo
Get unlimited antipasti and premium beverages for two hours!

Pictured: Aperitivo at LARTE
About LARTE
LARTE's menu is an ode to Italy without falling into clichés, promising to transport guests straight to Italy with the sights, sounds and smells of incredible Italian food and a true modern European ambiance.
Serving up all time favourite such as Spaghetti Bolognese or Pizza Margherita, the menu also reinvents tradition by infusing trendy ingredients such as avocado, nutella & truffle into its diversified selection.
Call LARTE on 04 581 6870 for more info or click here to visit their Instagram.