Kosher Food Options to Be Made Available in Abu Dhabi Hotels
Abu Dhabi's Tourism Department has instructed all hotel restaurant menus to include kosher food options
Posted on
10 September 2020

As Abu Dhabi continues to reopen public facilities across the capital...
Some of our favourite hotels and restaurants are back up and running and serving meals.
The news couldn't come at a better time for those looking to dine on kosher foods. In a circular issued by the Department of Culture and Tourism (DCT) in Abu Dhabi, all hotels have been instructed to include kosher options in their restaurants and room service menus.
The move comes after the UAE's historic peace accord and normalization of relations with Israel on August 13. DCT has since asked hotels to commit to offering kosher meals for all tourists and visitors to the emirate.
"All hotel establishments are advised to include kosher food options on room service menus and at all food and beverage outlets in their establishments," stated the official circular.
Abu Dhabi hotels are urged to seek kosher certification for handling kosher food and to create an area in their respective kitchen dedicated to the preparation of kosher food.
Dining establishments in hotels are also required to label kosher options in their menu with a visible symbol.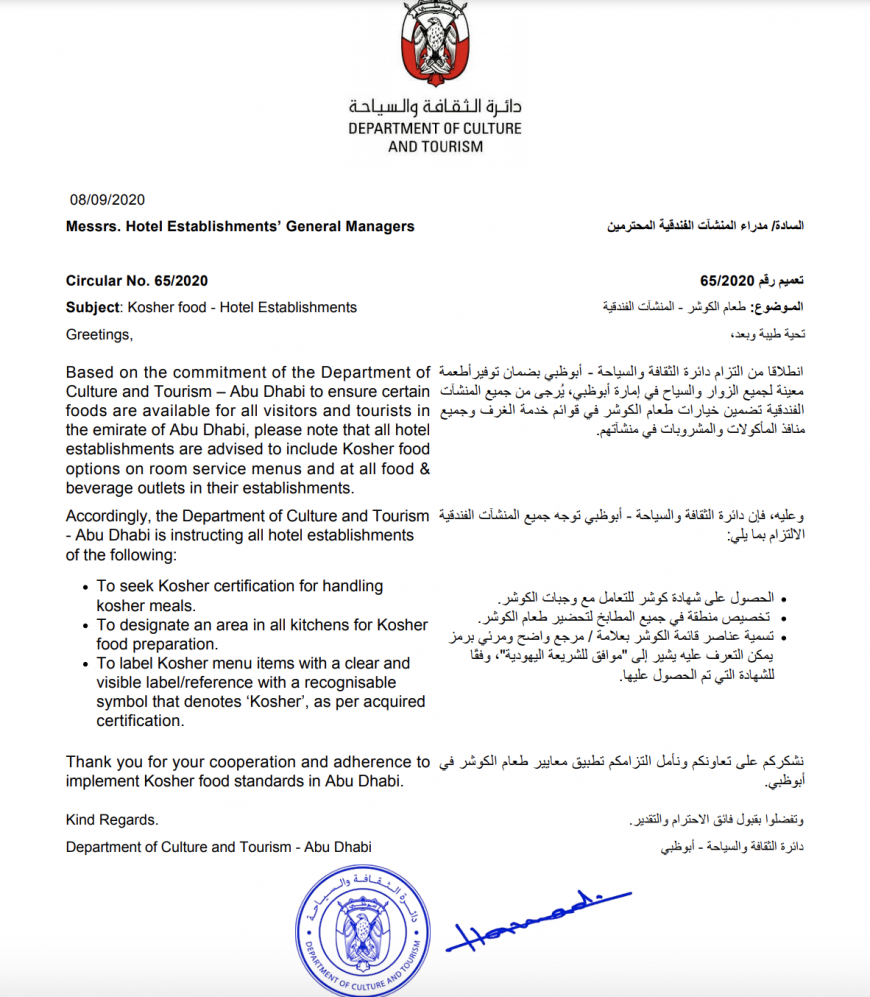 What is "kosher" food?
The term kosher is used to describe food that complies with the dietary guidelines of traditional Jewish law.
The word "kosher" comes from the Hebrew root "kashér", meaning that something is proper, pure, or suitable for consumption.
As per kosher standards, any food that is categorized as meat must not be served or eaten with the same meal as a dairy product.
All equipment used to process and clean meat or dairy must be separated, even if they've been washed. This also includes utensils.
Shellfish and crustaceans are also prohibited, and fish can be eaten only if they have fins and scales.
Moreover, in a way that is similar to halal food and Islamic eating rules, kosher also follows the ritual slaughter of animals and a ban on consuming pork.