Savour the Food Inspired Events at the Emirates Airline Festival of Literature
Food, glorious food
Posted on
6 February 2019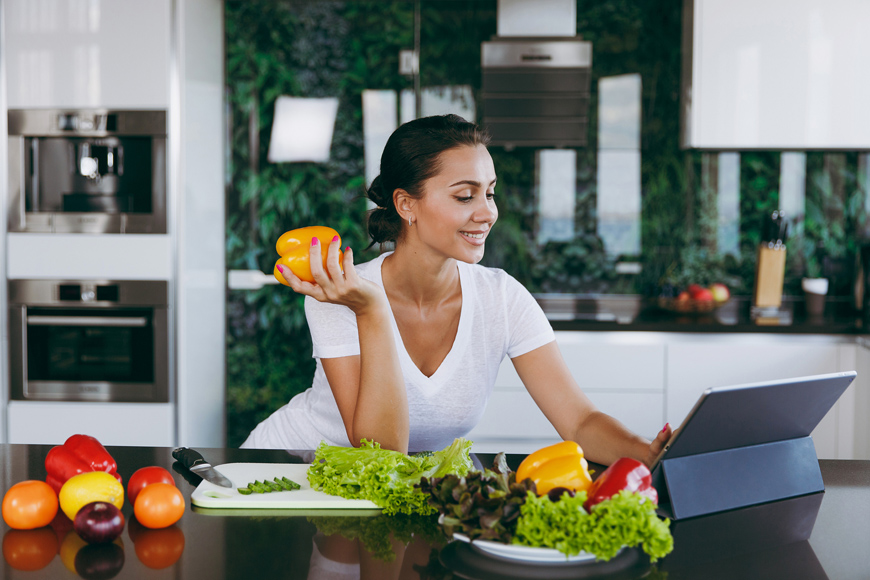 A feast of literary treats is on the menu at the Emirates Airline Festival of LiteratureEmirates Airline Festival of Literature (1-9 March 2019) with a host of special events and food-inspired sessions to inform, entertain and enjoy.
Saffron Soul
Savour some Saffron Soul with Mira Manek - traditional Indian food with a modern twist. Manek has taken her mother's and grandmother's recipes and made them healthier and lighter but just as delicious, using her own mix of spices.
Manek collaborates with restaurants and cafes to promote healthy Indian cooking, and runs supper clubs, cookery classes and wellness events in the UK. Saffron Soul, her first book, is a celebration of family, food and culture.
SEE ALSO: Is the future social? Find out at Emirates Airline Festival of Literature
There's the chance to enjoy some of Manek's recipes and get the Festival off to a tranquil start with the Yoga Brunch, an outdoor yoga session led by Dubai-based instructor Melanie Swan followed by a nutritious vegetarian brunch using recipes from Manek's book.
We will also hear about her food journey and what she has learned along the way – from her struggles with digestive issues to her recovery through healthy eating, to finding success as a published author and foodie entrepreneur.
The Little Library Cookbook
Foodies who are book-worms will find a kindred spirit in Kate Young. Growing up, her memories of books and of food were intertwined - dreaming of rich treacle tart by the Gryffindor fire, drinking gallons of ginger beer and lemonade on Kirrin Island with the Famous Five, and sharing a pot of creamy honey with Winnie the Pooh.
The Little Library Cookbook captures the magic and wonder of the meals enjoyed by some of our best-loved fictional characters. Join Young, winner of the Guild of Food Writers Blogger of the Year Award, as she serves recipes capturing the magic and wonder of the meals enjoyed by some of our best-loved fictional characters.


Pictured: Kate Young
The Future of Food
From foodie fiction to food facts as the Festival addresses the future of food in a hard-hitting session featuring Danish food writer and chef Trine Hahneman, an enthusiastic advocate for sustainable solutions, organic sourcing and food cooked with love.
She will be joining environmentalist and conservationist HE Dr Majid Al Qassimi, Director of Animal Health and Development at the UAE Ministry of Climate Change and Environment, discussing the steps we all need to take to ensure that the food we eat is sustainable. What impact will this have on our social and cultural concept of meals and on our environment?
Gene Eating – the way forward?
Fighting the flab gets personal - showing how we can be more scientific in our approach is Cambridge geneticist, Dr Giles Yeo. Yeo's easy manner in explaining scientific concepts led him to present programmes such as BBC's critically acclaimed Horizon: Clean Eating – The Dirty Truth, which sparked a national debate in 2017.
SEE ALSO: Meet the women who changed the world at Emirates Airline Festival of Literature
He has dedicated over 20 years to studying how genes influence our eating habits and instead of looking at how we have become obese, Gene Eating tackles the question of why some people eat more than others – can we really blame our genes?
Special foodie events at EAFOL 2019
'United by Food' Dinner
What better way to celebrate the Festival's theme 'United by Words' than our 'United by Food' dinner, where authors and chefs will celebrate the stories that are told by our plates – and acknowledge how strangers sharing a meal can lead to an understanding of other shared experiences.
Hanan Sayed Worrell is the author of Table Tales, which tells the story of Abu Dhabi through the evolution of its cuisine, brought to life by its diverse resident communities. Peyman and Mohamed Parham Al Awadhi, also known as the Al Awadhi brothers, went on a gastronomic journey around the world filming award-winning travel series Peeta Planet, and they will share some of the succulent flavours they encountered that were too good to leave behind.
Desert Stanzas


Pictured: Selina Tusitala Marsh
Tony Blackburn and the Murder Mystery Dinner
The Murder Mystery Dinner makes a welcome return for 2019, where mystery and mayhem combine in a fun evening that is always one of the first events to sell out. As always, guests will have the chance to put their sleuthing skills to the test and see if they can outwit our authors to deduce who the killer is.
There's a treat for all you music fans out there, as before the grisly deed is done, legendary DJ Tony Blackburn will be relating stories from his days on the high seas on pirate radio, through to his long career with the BBC. He was the first DJ to broadcast on the UK's Radio One, and was at the heart of the sixties and seventies music scene, mixing with the superstars of the pop and rock world and the Motown legends of his beloved soul music. His crowning glory came in 2002 when he became the King of the Jungle, the first winner of the TV show 'I'm a Celebrity Get Me Out of Here.'
Inspired by Tony's early radio days, we'll be taking you back to the 1960s as we ask, will there be Murder on the Dancefloor? Don't miss this sensational evening!
The LitFest Business Breakfast
Begin the day with a healthy breakfast and hear our panel of experts on some of the tricky issues of today's business.
The panel includes H.E. Raja Al Gurg, M.D. of the Easa Saleh Al Gurg Group, who regularly appears in lists of the Middle East's most powerful women, using her position to encourage other Arab businesswomen, and Dawn Metcalfe, an executive and leadership coach and founder of Dubai-based PDSi, which helps individuals and teams get even better at what they do.
SEE ALSO: Explore future worlds at the Emirates Airline Festival of Literature
They will join Kristin Sherry, founder of Virtus Career Consulting and author of the best-selling book, YouMap: Find Yourself, and Gaurav Sinha, who established Insignia Worldwide in 2003, listed in the Top 30 Most Admired Companies by Arabian Business. He is the author of Compassion Inc, which outlines the economics of empathy for life and for business at a time when conscience, ethics, and authenticity are high on the agenda. Hear their words of wisdom and give your business the edge.
What is the Emirates Airline Festival of Literature?
The Emirates Airline Festival of Literature is held in partnership with Emirates Airline and the Dubai Culture & Arts Authority (Dubai Culture), the Emirate's dedicated authority for heritage, arts, and culture. It is held under the patronage of His Highness Sheikh Mohammed Bin Rashid Al Maktoum, Vice-President and Prime Minister of the United Arab Emirates and Ruler of Dubai.
The Festival programme is brimming with sessions to engage, entertain and inform, with topics encompassing fiction, history, current affairs, food, health, travel, biography, business and more. There are opportunities to appreciate poetry, take part in creative writing workshops and generally indulge in intelligent and articulate discussion on a wide range of topics. Sessions appeal to all ages and nationalities, featuring outstanding authors, thinkers and opinion formers.
For tickets and the full list of authors, visit tickets.emirateslitfest.com and emirateslitfest.com/authors