Kids-Approved Infused Water Halloween Drinks in Dubai
Here are 3 simple infused water recipes that your kids will surely enjoy this Halloween
Posted on
24 October 2018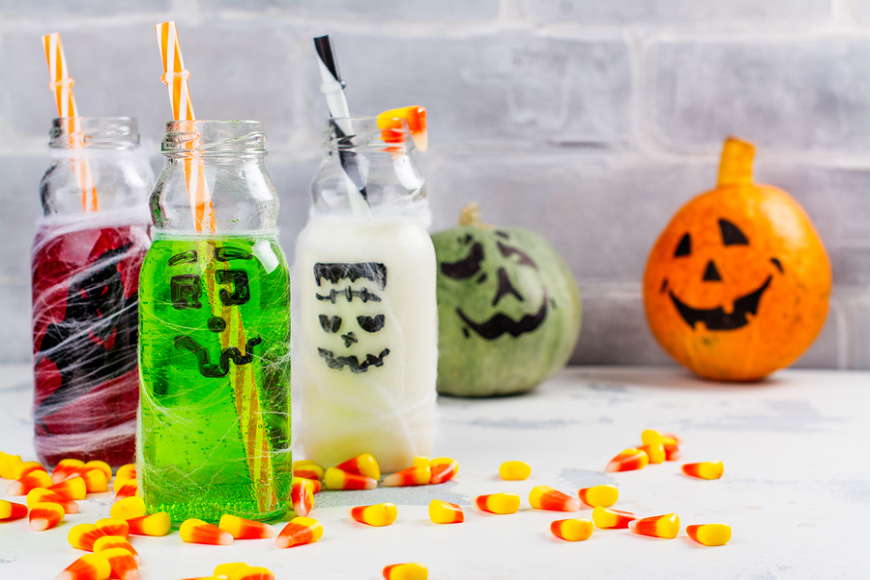 It's that time of the year again!
With October wrapping up real soon, kids are all excited for their spooky autumn function at school and the scary neighborhood Halloween party. While steering your kids away from the piles of candy and treats can be quite challenging, a drink that's packed with vitamins and yet nothing less than creepy sounds like a win to us.
SEE ALSO: Is Your Child Drinking Enough Water at School in Dubai?
Here are some super simple punch and infused water recipes that will impress the little monsters, and big ones just as much!
Spooky Frankenstein Punch
Ingredients:
2 (3oz.) packages of lime-flavored gelatin mix (organic, if you wish)
4 cups of hot filtered water
6 cups of pineapple juice (chilled)
2 cups of white sugar (or any alternative you feel comfortable with)
4 ½ cups of cold filtered water
2 liters of Ginger Ale

Preparation
In a sauce pan, dissolve the gelatin mix in the hot filtered water and then leave it to cool down
In a large punch bowl, combine the cider mix with the pineapple juice, sugar and cold filtered water
Add Ginger Ale
Want a little more spookiness? No problem.
Pour filtered water into a pair of washed plastic glove and freeze them.
Float the ice cube hands in the bowl and its Halloween ready!
Creepy Eyeballs Infused Water
Ingredients:
25 lychee, peeled and pit
25 blueberries
12 cups of filtered water
Preparation
Insert the blueberries into the cavities of the lychee to make creepy edible eyeballs
In a pitcher or water infuser, pour the filtered water and drop in the edible eyeballs
Refrigerate for a couple of hours for a bold and sweet-flavored infused water
Gummy Warm Punch
Ingredients:
4 cups of filtered water
2 (3oz.) packages of orange-flavored gelatin mix (organic, if you wish)
4 cups of apple juice
2 big apples
Gummy snakes
Preparation
In a sauce pan, stir the orange-flavored gelatin mic in the hot filtered water until completely dissolved
Add the apple juice, stir until you bring the mixture down to a simmer
Peel the 2 apples and cut them into thin slices
Pour into a big punch bowl and refrigerate for a few hours
Add the apple slices which will sink to the bottom and some gummy snakes for a spooky touch
We highly recommend that you use filtered water for these recipes, for only the finest water would match with the creepy effort you're making to keep your family happy.
Let the Spooky Fun Begin!
Need help choosing the best filtration system for your office or household? Give us a call or drop us a message and one of our water specialists will happily assist you.


With over 30 years of experience in the water industry in the region, Permatech provides cost-effective and premium quality water treatment solutions.