Posted on
14 December 2015
by
BBC Good Food Show Dubai
Apple Cinnamon and Cherry Crumble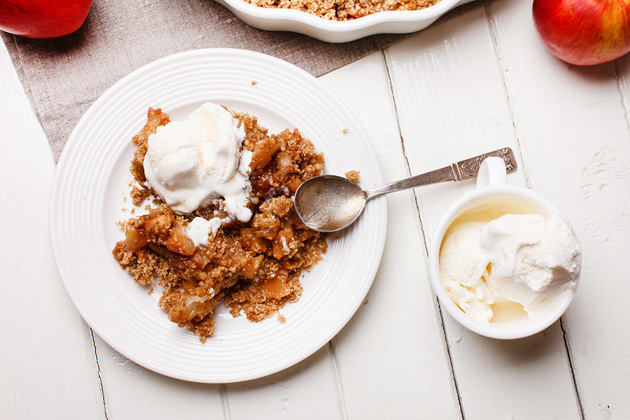 Ingredients
3 bramley apples, peeled, cored and diced
150g golden caster sugar
200g butter, plus 2oz extra for frying
150g plain flour
50g hazelnuts, chopped
3 bramley apples, peeled, cored and diced
150g golden caster sugar
200g butter, plus 2oz extra for frying
150g plain flour
50g hazelnuts, chopped
<strong>For the cherries</strong>
400 ml strained tinned cherries
150g golden caster sugar
juice of 1 lemon
½ tsp powdered cinnamon
<strong>For the custard</strong>
6 egg yolks
1 pt double cream
½ pt milk
100g sugar
1 vanilla pod
2 drops vanilla extract
Preparation
To make the cherries bring to boil all ingredients for four minutes

<strong>Method for crumble</strong>

Preheat the oven to 180C/350F/gas mark 4

Heat a frying pan on medium, place the apples, butter and sugar, cook and stir till light brown remove from heat then add the cherries.

For the crumble topping, blend 200g butter, the caster sugar and flour in a food processor until it forms a crumble then add the chopped hazelnuts.

Add the pan-fried apples and cherry mixture to an 8 INS deep sided roasting tin.

Top with the crumble mixture.

Place in the preheated oven for 30 minutes.

<strong>Serve with creamy custard</strong>

Mix eggs, vanilla and sugar in a bowl heat milk and cream and pour over the eggs whilst stirring add back to heat and stir till thick cool a little and serve.

You can add a little extra, thick double cream.
Cooks Note
Find out more about BBC Good Food Show Dubai here.