Banana Loaf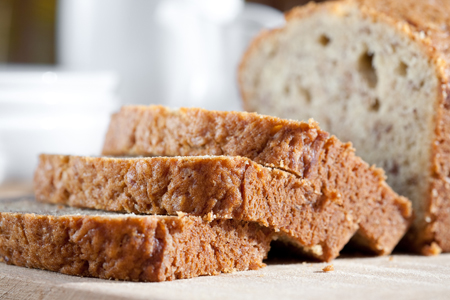 Ingredients
2 bananas
1 tsp bicarbonate of soda
30ml hot milk
125 butter
175g caster sugar
2 eggs
225g flour, sifted
1 tsp baking powder
Preparation
Preheat the oven to 180 C. Grease and line 1 kilo of loaf tin.

In a mixing bowl, mash the bananas thoroughly. Set aside.

Dissolve bicarbonate of soda in hote milk and then mix with the banana.

Add caster sugar, butter, eggs, flour and baking powder. Mix thoroughly for 2 minutes until well distributed.

Turn the mixture into the loaf tin and bake until the loaf has risen. Approx. 1 hour (Test if well baked by inserting a skewer into the centre

it should come clean)

Note:

You can freeze the banana during the weekend and have it sliced during the week for a great lunchbox treat.
Cooks Note
Preparation time: 80 minutes