Beef Shawarma with Cucumber Yoghurt Sauce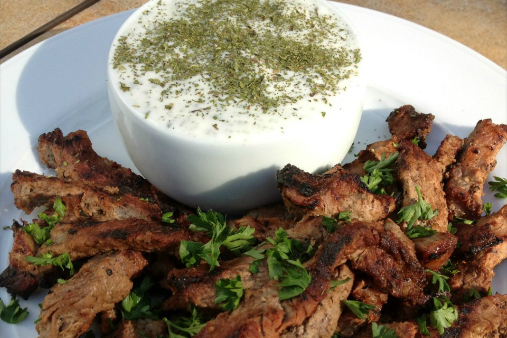 Ingredients
For the Beef Shawarma:
- 20 oz sirloin - cut in thin strips
- 2 c plain yogurt
- Juice of 2 lemons
- 2 tsp cinnamon
- 2 tsp allspice
- 1 tsp nutmeg
- 4 garlic cloves - grated
- ½ tbs salt
- ½ tsp pepper
For the Cucumber Yoghurt Sauce:
- 2 c. plain yogurt
- 1 cucumber - peeled and diced
- ¼ c. lemon juice
- 2 garlic cloves - crushed
- ¼ c. chopped fresh mint (dried works well too)
- ½ tsp salt
- ¼ tsp pepper
Preparation
To make the Beef Shawarma: Place sirloin strips in a glass bowl or resealable plastic bag.

In a small bowl, whisk together all remaining ingredients (yogurt through pepper) and pour over the beef strips.

Marinade 2 hours or overnight if possible.

Grill over medium-high heat for 3-4 minutes per side.

Serve with cucumber yoghurt sauce.

To make the Cucumber Yoghurt Sauce:

Combine all ingredients in a bowl and stir well. Let sit for 10 minutes before serving or refrigerate for up to 4 hours.

Serve on top of the beef shawarma.
Cooks Note
Yogurt, lemon and spices tenderize the beef to create a delicious and succulent Middle Eastern dish.