Posted on
24 February 2014
Blueberry Coulis Pancakes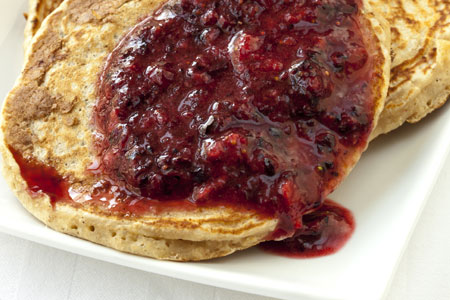 Ingredients
125 g blueberries
2 tablespoons of sugar
Juice of half a lemon
Preparation
1. Crush the blueberries to release as much of the juice as possible

you may wish to blend them to extract the juice. Then pass through a sieve and discard the seeds and skins, leaving a smooth, thick blueberry juice.

2. Mix in the sugar and add the lemon juice, mixing together well.

3. In a saucepan, simmer the mixture gently over a low heat for 2-3 minutes until it begins to thicken.

4. Stir it well and place in a jug or jar in the fridge to cool.

5. Serve with the warm pancakes, along with a spoonful of crème fraiche or thick cream.