Braised Pork Leg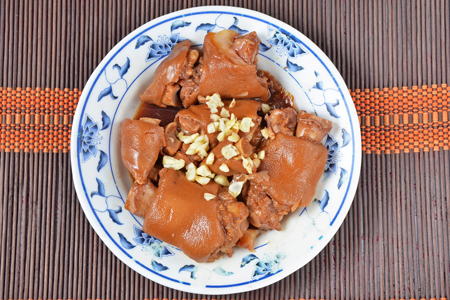 Ingredients
2 kls. Pork Leg
Bochoy Leaves
3 pcs. star anis
Shitake Mushroom
2 cups Pineapple Chunks
4 cups Pineapple Juice
4 pcs. bay leaves
2 cups Soy Sauce
a cup Brown Sugar
whole pepper
half cup onion
crushed garlic
a cup of dilluted cornstarch
Preparation
Put the meat in a big pot and bring to boil for 5 mins.

Discard the water

Pour in the pineapple juice, soy sauce, brown sugar

Add laurel, anis, onion, garlic and water to cover the meat

Simmer to low heat until the meat is tender

Remove the meat, set aside

Add mushroom & the diluted cornstarch into the boiling sauce

Add bochoy leaves until tender

Pour the thicken sauce onto the pata, garnish the pineapple chunks.

Place the bochoy leaves at the side.