Chicken and Bacon Carbonara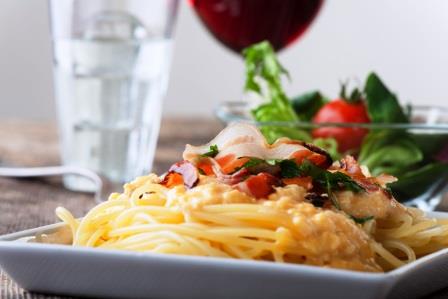 Ingredients
250g spaghetti
50g butter
1 small red onion , finely chopped
2 garlic cloves , finely chopped
6 rashers of smoked bacon , chopped
2 chicken breasts chopped up
2 eggs
142ml cream
30g Parmesan , finely grated
Preparation
Bring a large pot of water to boil, and cook spaghetti 6 – 8 minutes, till al dente (still with

a little 'bite' in it)

Melt the butter, and sauté the onion, garlic, bacon and chicken for 8 minutes or so, till it is

all golden and yummy.

Beat together the eggs, cream, and the parmesan cheese and add black pepper.

Drain the spaghetti and return to the pan, add first the egg/cheese mixture, and stir round,

then add the onion chicken bacon mix.

Serve immediately.