Chicken-Fried Steak with Soy Milk Gravy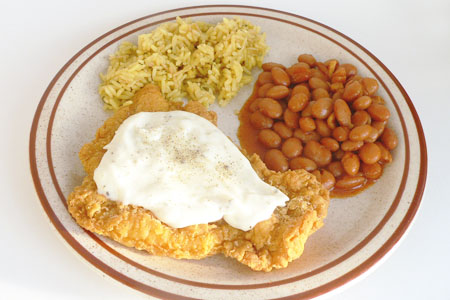 Ingredients
1 cup Basic Breading Mix for Fried Foods
2 cups plain soy milk, divided
2 large eggs
4 (4-ounce) cubed steaks
Cooking spray
2 tablespoons canola oil, divided
1 tablespoon cornstarch
1/2 teaspoon salt
1/2 teaspoon freshly ground black pepper
4 teaspoons chopped fresh parsley
Preparation
1. Place Basic Breading Mix for Fried Foods in a shallow bowl.

2. Combine 1/2 cup soy milk and eggs in a separate shallow bowl, stirring with a whisk. Dredge steaks in breading mix. Dip in egg mixture

dredge again in breading mix.

3. Coat a large skillet with cooking spray. Add 1 tablespoon oil

place over medium-high heat until hot. Fry 2 steaks in hot oil 4 minutes on each side or until golden brown. Transfer steaks to a platter. Repeat procedure with remaining 1 tablespoon oil and remaining 2 steaks, reserving drippings in pan.

4. Combine remaining 1 1/2 cups soy milk, cornstarch, salt, and pepper in a 2-cup glass measure, stirring with a whisk until smooth. Stir milk mixture into drippings in pan.

5. Bring to a boil over medium-high heat

cook, stirring constantly, 1 minute or until thickened. Spoon gravy over steaks. Sprinkle evenly with parsley.