Easy Banana Bread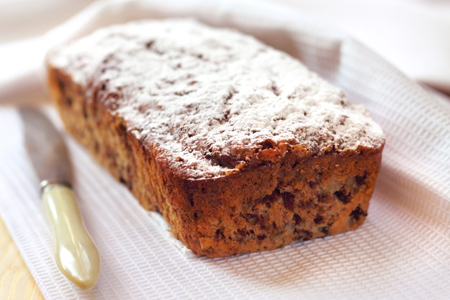 Ingredients
3 bananas, ripe
4 tbsp butter, softened
2 eggs
2/3 cup sugar
1 1/3 cup all-purpose flour
¾ tsp sald
½ tsp baking soda
¼ tsp baking powder
½ tsp cinnamon
Preparation
Combine banana, butter, sugar and eggs in a small bowl.

In a separate bowl, combine the flour, salt, baking soda, cinnamon and baking powder.

Then mix the two ingredients until combined thoroughly.

If you want variations, you can add ingredients like chocolate chips, walnuts or apricots as you like.

In a greased baking pan, pour the dough and bake for half an hour or until a toothpick inserted comes out clean.

Remove the loaf from the oven and cool for 10 minutes.

Then remove the loaf from the pan serve. Your choice, it can be both served hot or cold! Enjoy.